Fytogreen (Aust) Pty Ltd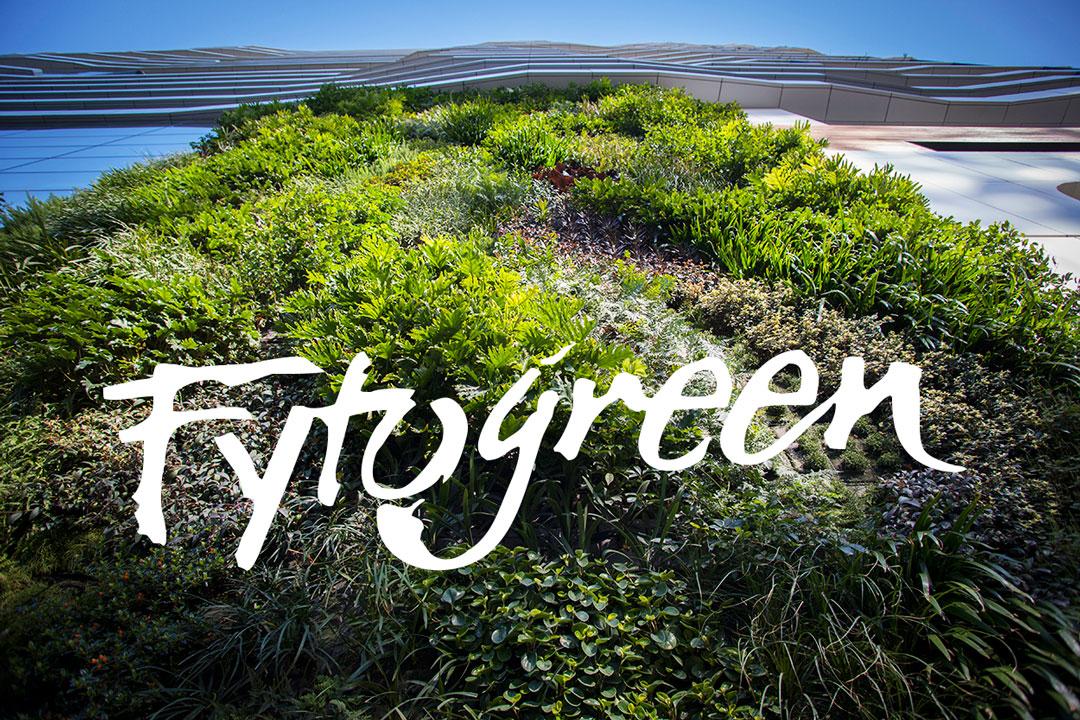 Green roofs and vertical gardens help our world re-invest in its natural beauty.
We grow gardens to please the eye, soothe the soul, challenge the elements and enhance our spirit. We share the magic of watching gardens grow on buildings within our cities, for the joy of our whole community"
 Who are Fytogreen?
Fytogreen is Australia's leading specialist in environmental roof gardens, vertical gardens, green facades and planter boxes.   We help Australian and International developers, architects and landscape architects seeking to create beautiful, environmentally sustainable gardens integrated into the architectural form.
Fytogreen Australia has supplied proprietary roof garden media components to over500,000m2 of roof gardens throughout Australia.   Fytogreen works with the majority of Tier 1 and Tier 2 construction companies, either directly or indirectly in the capacity as a sub-contractor.
Our established expertise created over many years of collaboration with horticultural experts allows Fytogreen a rapid interchange of experience, problem solving, commercial and technical know-how, which continues to enhance our effectiveness and ability to service our clients' needs.
More than 220 successful vertical garden projects have been completed by the Fytogreen Australia team, since 2002, across Australia and in international locations including New Zealand, Fiji, California, Singapore and Dubai.

Our projects range from the monumental 27,000m2 green roof at the Victorian Desalination Plant, the tallest indoor vertical garden in the southern hemisphere at Tower Four, Collins Square in Melbourne's CBD, through to compact and humble Florafelt systems which are ideal for cafés and small alfresco spaces.


PHOTO CAPTION:  Tower Four, Collins Square
Australia's Tallest Indoor Greenwall designed, installed and maintained by Fytogreen Australia
What makes Fytogreen the Industry Leader?
 Fytogreen continue to lead the industry with innovative products, sustainability expertise and a down to earth approach.   Under the leadership of Geoff Heard, Managing Director, Fytogreen has 30 years of horticultural industry experience and have been delivering green roofs, green walls and vertical gardens since 2002. 
We are proud to stand behind our product and with a 16 years proven track record in sustainable design, Fytogreen are the # 1 choice in green walls, roof gardens, green facades and planter boxes.
Fytogreen thrives by working collaboratively with our clients, architects, landscape architects and consultant project teams.
Managing Director:  Geoff Heard  
 Leading the Fytogreen Team is Geoff, with a B. Ag in Commerce from Lincoln University and has extensive experience in all aspects of living roof systems and has over 30 years of horticultural experience.
Geoff established Fytogreen Australia in 2002 and has conducted a rigorous research program to adapt and modify Fytogreen's resin products to Australian climatic conditions and implement a wide range of successful projects in Australia, New Zealand, Singapore, etc.
Geoff is responsible for the successful delivery of Fytogreen's projects and the ongoing research and development.

FYTOGREEN HEAD OFFICE (Warehouse and Nursery)
3 Webbs Lane, Somerville VIC 3912
Phone: 1300 182 341
Email: info@fytogreen.com.au
FYTOGREEN MAIN PRODUCTS:
VERTICAL GARDENS - 

meeting a technical challenge to enhance nature's expression

Fytogreen offer 2 vertical garden systems:-

• Fytowall  -Fytogreen's vertical garden panel system suited for commercial developments, which uses our proprietary growing medium to deliver water and nutrients to specially selected plants, makes the living vertical environment a success. The complex process of species selection and placement has been honed by Fytogreen over many years to ensure the installed green walls are both successful and sustainable

• Florafelt pocket green wall system – Florafelt is perfect for smaller installations and comes pre-grown or packaged for DIY. The panels come in standard sizes which can be trimmed to exact specifications to closely fit any width or custom requirement. 

 

Fytorgreen's Fytowallgreen wall system can be installed either outdoors or indoors. They look fabulous as a backdrop for any office, create a stunning entrance for apartment complexes and can provide a 'wow' factor in any environment.  Fytogreen recommend all indoor walls require grow lights to ensure the sustainability or the green wall.

ROOF GARDENS

Sustainable living roofs for healthy, ecologically responsible buildings.

A roof garden or "green roof" is a flat or pitched roof surface that is planted using a growing medium over a waterproof membrane. 

Not only does a flourishing roof garden enhance the overall aesthetic, green roofs also improve a building's environmental performance, thermal insulation and climate responsiveness.

Fytogreen specilizes in;

            • Extensive Roof Gardens

            • Semi-Extensive Roof Gardens

            • Intensive Roof Gardens

            • Sloped Roof Gardens

            • Supplying Roof Garden Media and Components to the Horticultural Industry

Fytogreen have a proven track record in the industry, we have installed over 55,000 m2 of beautiful and sustainable rooftop gardens and supplied proprietary roof garden media components to 500,000m2 (approx) throughout Australia.Our projects range from the monumental 27,000m2 green roof at the Victorian Desalination Plant through to compact homes, offices and café alfresco spaces.

We are interested in sustainability, we ensure the plants last their natural lifespan within challenging environments. All of our design and project management team are university graduated, and spend extensive time on research and development to ensure Fytogreen supply flourishing gardens that are perfectly suited to their various climatic conditions."

Green Facades &Planter Boxes

Green façades differ from vertical gardens by using climbing vines & creepers, planted in a lightweight and automated planter systems with climbing trellis.

The key benefits of planting a green facade is to reduce building A/C energy costs, and reflective light and heat.  The installation process of a green facade requires minimal equipment access, reducing installation costs.

FYTOGREEN PROVIDES 3 MAIN FACADE SYSTEMS...

Green Facades - Using web mesh, square mesh or cables to train climbing plants and shrubs to cover buildings and walls. This system is extremely cost effective and requires minimal equipment access.

Pre-grown Green Facade Units - This unit overcomes the usual draw back with standard green facades, providing increased foliage cover at installation, instead of waiting up to 2-3 years.  Our pre grown units are cost effective, significantly less prone to plant failure, independently certified for engineering suitability and have multiple attachment points; making placement safe and easy, reducing installation time.

Planter Boxes - Fytogreen supply a range of Linear Low Density Polyethylene planter boxes that provide a flexible container for both planter boxes and green facades. The colour range is vast and the ability to cut, and provide the ability to adjust and re-weld the standard planter box sizes to fit any orientation specified.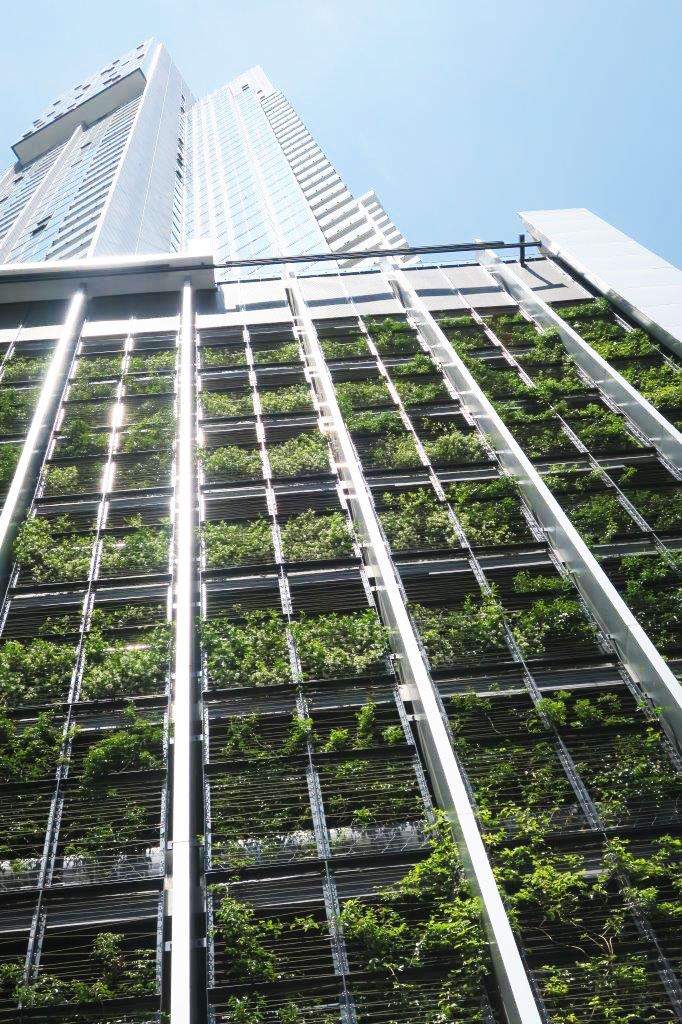 P
olarmoss by Fytogreen
A contemporary and classy way to bring a touch of nature indoors.
Polarmoss preserved green wall products add an impressive dimension to anyinterior space.   It is easy to install, available in 16 beautiful colours and is perfect to suit individual designs.
Our Polarmoss is lightweight, sothere are no structural requirement and with zero maintenance and irrigation needed you can bring a touch of nature virtually anywhere indoors.
PLEASE NOTE: Polarmoss is a preserved product, it does not require any sunlight, watering or pruning.  It is recommended to remain above 40% humidity so it remains soft to touch.
FYTOGREEN have developed an extensive range of 3 dimensional systems to increase the diversity, quantity and density of biophilic design.
 Fytogreen's FytoWalls, FytoColumns, Curved FytoWalls and FytoArbours, allow different types of plants to colonise almost any space or architectural form. We can successfully vegetate a range of structures, whether cladding curved walls, suspending freely in the air or rising from floors with minimal to no footprint.
These innovations further our ability to extend the impact of plants beyond the wall or a set garden area, and allow us to capitalise on unused space by injecting verdant and diverse life into the built environment.
Images: Fytogreen, in conjunction with Tensile, created a relaxing leafy atmosphere at Warringah Mall in NSW, with aa series of striking curved FytoWall panels that cover 14 individual columns throughout the extension.  Each ranging fin height from 8m to 14m.