Green Roofs Australasia Newsletter. Presidents Report.
Welcome to all our new members and especially to those who have continued with support. Also a warm Thank You to all those who supported our National Conference in Melbourne last December. The 6th National had a fluency, warmth and strong community spirit which was well attended and supported by the City of Melbourne and Uni of Melbourne, especially Burnley Campus Staff helping with organisation.
A Special Thanks goes out to our Sponsors who were :-
FYTOGREEN AUSTRALIA (Diamond Sponsor), INTERNATIONAL LEAK DETECTOR systems (ILD / Gold Sponsor), ELMICH (Gold Sponsor),
GREENWALL COMPANY (Silver Sponsor), RONSTAN (Silver Sponsor), SIKA (Silver Sponsor) also ELEVATED GARDENS, ODS & CLINKA.
GRA was proud to present four Keynotes ; Landscape Architects Larry Reed & John Loomis from SWAgroup and Ed Snodgrass from the USA. Also attending, thanks to UoM sponsorship, was Dr Jeremy Lundholm from Canada. GRA was also proud to present leading researchers and professionals from Australasia, so thanking you all.
More Information on the Greening Cities Conference in Melbourne will be posted asap. 
GRA presented Industry Awards for Excellence at the Conference Opening Ceremony. The Awards & Winners were:-
Advocacy Award presented to Robyn Simcock (LandCare Researcher, NZ Executive)
Green Roof Design Award presented to Aspect Studios Melbourne for the Victorian Desalination Project
Green Roof Installation Award presented to Fytogreen Australia for the Victorian Desalination Plant
Green Wall Design & Installation Award presented to Mark Paul, the Greenwall Company for the Origin Energy Building
Iconic Green Roof Award presented to SWAgroup USA for the California Academy of Sciences Building
Research Award presented to Burnley Campus, University of Melbourne
Green City Award presented to the City of Melbourne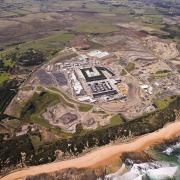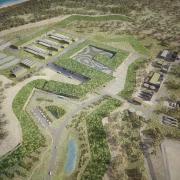 Victorian Desalination Project: Green Roof information in our GRA Project Gallery
GRA Awards for - Green Roof Design (Aspect Studio)
                                    Green Roof Installation (Fytogreen Australia)
Images courtesy of Fytogreen Australia.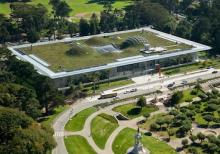 California Academy of Sciences, San Francisco, USA. (Image courtesy of SWA group, USA)
GRA Award for Iconic International Green Roof (accepted by SWA group, USA)                                                   
I have just clocked up one year as President and my fifth as an active GRA committee member. To date, it has been difficult to provide a balanced service especially regarding Communication. During the transfer in Jan 2012, membership status records required updating, as it was impossible to separate past and current members. Membership details are now contained in the GRA website data base and not externally, as before. If you have not received a reminder for membership, it is because you will need to enter your details through the website and rejoin - with a huge discount!! Then you will receive an automated reminder annually. 
2012 was such a hectic year primarily absorbed by the new website build, preparations for the National Conference in Melbourne & negotiating support for the 2014 World Congress we are hosting in Sydney. The World Congress will be a massive challenge for our resources BUT well worth the effort because it has the potential to propel our Industry to new levels of expansion which will also have benefits for the environment, our society and our future.
The Times are definitely changing and with change comes new technology and new policy. Unfortunately technology develops faster than policy!!! However, Melbourne and Adelaide have recently published new Guides (see our Library) and Sydney have developed a new Green Roof Strategy with a new Technical Advisory Panel focused on providing supportive policy for the Industry. Stay tuned as we will update all members on developments throughout Australasia.
To assist GRA, WE NEED YOU:-
To join as Members (Revised Fee - Students $30; Individuals $50)
To send in News; Content; Feedback and Suggestions.
To Upload Projects / Upload Images
Join our FB page 'GRAustralasia'
To help us create an Active Community
To spread the word to others
In 2013 GRA will be:-
Improving the Website Content further
Forging New Affiliations for positive collaborations
Developing Incentive Based Planning Policy Strategies
Expanding our Austral / Asian Network
Promoting Membership
Preparing for the 2014 World Green Infrastructure Congress in Sydney
Website Content:
GRA went live in July 2012 with :- a new Logo; a new responsive operating system ; new Project Upload & Image facility; new Library; Sponsorship Opportunities; News Desk and Social Media Networking. To date, this and the recent conference has taken most of my time and communication via our Newsletter has remained dormant. During 2012 there was limited assistance for this impotant task so I apologize if you were not informed about GRA's latest  development & changes. Not so in 2013! The member info will flow!
We now have a community focused website so please explore the content, links and other resources and I invite your suggestions and constructive criticsm to help provide worthy service. Bring it on!
New Affiliations:
In 2013 we have a new affiliation with the Nursery & Gardens Industry of Australia (NGIA) and Landcare NSW.
NGIA and GRA have similar goals to promote urban green infrastructure and to lobby for supportive government planning and policy. We agree that the big picture for urban development has to include more GREEN, being more PLANTS - in, on & around buildings ; in parks ; on streets, roads & freeways; vacant lots; city infrastructure in the form of green roofs, green walls, urban forests, canopy trees, urban farming plots and revegetated hard landscape 'forgotten' urban space.
During our recent conferences in Melbourne & Sydney GRA also developed an association with the Institute of Architects and Institute of Landscape Architects including the State Chapters which we will build on.
Affiliations in Asia include the Philippines, where GRA has an executive, Don Do who is also our Legal Officer. In Singapore we have a friendly relationship with CUGE ; National Parks & Forests & Instit of L'scape Architects. In China there are strong commercial connections with the Industry and the peak body for Rooftop Greening.
Of course our association with New Zealand is evolving, with three Executives and based on industry promotion .
Planning Policy Strategy:
There have been many international developments in policy which have promoted green infrastructure and some that have not succeeded.
In 2013, GRA will develop Policy Guidelines based on models which have succeeded internationally.
At the 2014 World Congress in Sydney we will release the GRA Strategy at the Policy Forum for government planners held in conjunction with a 'Meeting of the Mayors' chaired by Representatives from Sheffield, Chicago, Toronto and New York City Councils.
Austral - Asian Expansion:
The 2014 World Congress is an opportunity to promote and to expand our associations into Asia and the Pacific Islands. Invitations will be sent throughout our Asia-Pacific Region in the hope we may encourage stronger ties.
Initial relationships have been established with South Korea, Vietnam, Taiwan, Japan and India through our work with WGIN. The Green Roof industry in these countries is similar to ours and we can assist each other as stronger associations are forged.
GRA Membership:
GRA needs YOU!
We're doing our best to provide value for membership to students to companies to government.
In 2012 we :-
Slashed Annual Membership Fees
Provided Free Membership with limited site access
Provided huge discounts at the recent conference for members
Built a new website which is connected and content loaded
Expanded our networks and links
WHY does GRA need YOU?
The Planet needs all of us to act for change - Your GRA membership is action.
GRA has a voice - You can make it louder.
GRA has a positive message - You can pass it on.
GRA has knowledge - You can learn
GRA is a growing community - You can help us grow faster.
Each new development without interior green walls, vertical gardens and greenroofs is a lost opportunity for the environment, society and future generations.
WORLD GREEN INFRASTRUCTURE CONGRESS 2014 / SYDNEY
As for all our past conferences, the standard of presentations at the Congress will be excellent, covering latest world research; international & national case studies; Technology Exhibition; Policy Planning Debates; International Training Workshops and Green Site Tours.
The Webmaster will be uploading new content regularly during 2013 so stay tuned.
Affiliations are aligned
International Networks are linked
the NSW Gov't is showing support
and there's still more work ahead
STAY TUNED and HELP US  'BANG THE DRUM'

We need every Council, every Planner, every Mayor, every Minister, every Journalist and EVERYBODY to know about this significant Congress event to promote more urban green.
GRA is a NFP which means that everything we acheive is done non gratus and when the time is available .
Looking forward to hearing from You soon !
Warm Regards
Matthew Dillon
President.