The Greenwall Company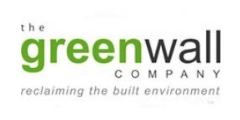 Our vision is to reclaim the built environment, by clothing the facades of buildings with epiphytic and lithophytic planting to create a living, breathing architectural function to every building.
Sometimes called living walls, green facades, bio walls or vertical gardens, greenwalls are a dynamic way to green a vertical built surface. Greenwalls refer to vegetation that grows directly onto a building's facade or to vegetation that is grown on a separate structural system that can be freestanding and adjacent or attached to the wall.
Working with architects , landscape architects, designers and builders, the Greenwall Company uses award winning design techniques, passion and expertise in horticulture in residential and commercial projects , to bring greenwalls to a new level of integration within the built environment This successful formula has expanded both interstate and internationally with a number of partners sharing both our vision and patented technology.
BIOGRAPHY

Mark Paul – Horticulturalist & Founder of The Greenwall Company

Over the past 25 years Mark Paul, a qualified horticulturalist has become a name synonymous with reclaiming the built environment, a passion he has had since childhood.

Mark's most recent achievements range from completion of the tallest greenwall in Australia, implementation of a community schools program through to tailor made residential installations in homes nation-wide. To date, Mark Paul has reclaimed ,000s m² of the built environment.

From an early age it was clear that Mark had a keen eye for design. Throughout his adolescence he worked to establish his parent's one acre block to encompass a spectacular vegetable garden complete with native bush regeneration. Even then his landscapes were cultivated from seed and cuttings and it is here that his passion for epiphytic and lithophytic plants and their habitats began.

Long before the "green revolution" Mark saw the preservation of native tree canopies as crucial. His formative landscape experiences with shallow or nonexistent soils and steep sandstone escarpments allowed much experimentation and innovation with epiphytic and lithophytic plantings. It is perhaps his scientific background having worked with CSIRO and NSW Fisheries that has led Mark to constantly test tolerance ranges of terrestrial plants, flow patterns of water over rock, hill, or site and pocket planting strategies that formulated much of his pioneer work leading to today's greenwalls and greenroofs.

Twenty five years on and with a formidable success rate Mark Paul today produces one off monumental greenwalls that span entire office blocks. By shrouding the built environment in these epiphytic and lithophytic plants he has devised a way that biodiversity and sustainability can be maintained. Through his proven technique, full integration of rainwater and grey water has been implemented. The use of black water in the greenwalls is also being established to be operational in the near possible.

For Mark Paul it is and has always been about the plants, location, aspect, growth habit, plant communities with similar cultural requirements, meeting their simple needs of light, water and nutrition. This simple philosophy is backed by years of trials, experimentation and observation of plants in habitat that have led to this winning result.