GRA Member World Congress Offer - $280.00 Full Congress Registration - Bang The Drum !!!

Dear GRA Members and Colleagues,
GRA is hosting the WORLD GREEN INFRASTRUCTURE CONGRESS (WGIC2014) in Sydney this October.
This has been a massive effort to organise so now we need your support by joining us on the Registration list.
The Speakers are World Leaders / The Training Workshops are a Once Only Offer for AUS.
The MEMBER OFFER is COST PRICE for Registration. That's $280,00 Full Rego!!!
The GRA Board works pro bono as advocates to promote green roofs and living walls in Australasia and our Industry is presently expanding rapidly. This Congress is our chance to celebrate the progress so let's do it together. Register and join us.
The Green Building Council of Australia (GBCA) and many other associations have encouraged their members to attend the WGIC2014. They have responded.
I am now asking the same from GRA Members.
We are giving all our GRA members the opportunity to attend this Congress at cost price. Most of you have been staunch members since 2007 and we acknowledge your loyalty by passing on this membership benefit.
The Registration Fees / The Training Workshops / The Green Site Tour / The Social Events - GRA Members receive everything at Cost Price.
The Speaker Selection is World Class with global leaders in their field travelling to Sydney from abroad and inter-state. This will be our best event ever and we want you there to share it.
Patrick Blanc - Paris, speaking on 'One Central Park' in Sydney; Manfred Koehler - FLL, Germany; Dorthe Romo - Scandanavia; Michael Teh - largest green walls in Singapore ; Raphael Garcia - San Francisco who project managed the Academy of Sciences & Transbay Transit Hub and Sacha Coles, Lance Jeffery, Warwick Savvas, Graeme Hopkins, Mark Paul and others from Australasia and abroad.
Case Study Projects covered will be Barangaroo Headland, One Central Park, Victorian Desalination Plant, Major Singapore Projects and many from Europe, USA, Sth America and Asia.
New Research from Australia, New Zealand, Europe and Asia.
The Workshop Training is LEED accredited from the USA and the benchmark for Green Roof Professionals. This is being presented by Jeffrey Bruce a world renown landscape architect who has worked on the biggest projects in North America such as Millennium Park in Chicago. The course was developed for the Green Roof Industry by 'Green Roofs for Healthy Cities' in 2006 and has evolved into the Industry standard for Professional Training.
This has never been offered outside the USA - until now at the WGIC2014 in Sydney.
The website has all the information on the Congress so check it out  www.wgic2014.org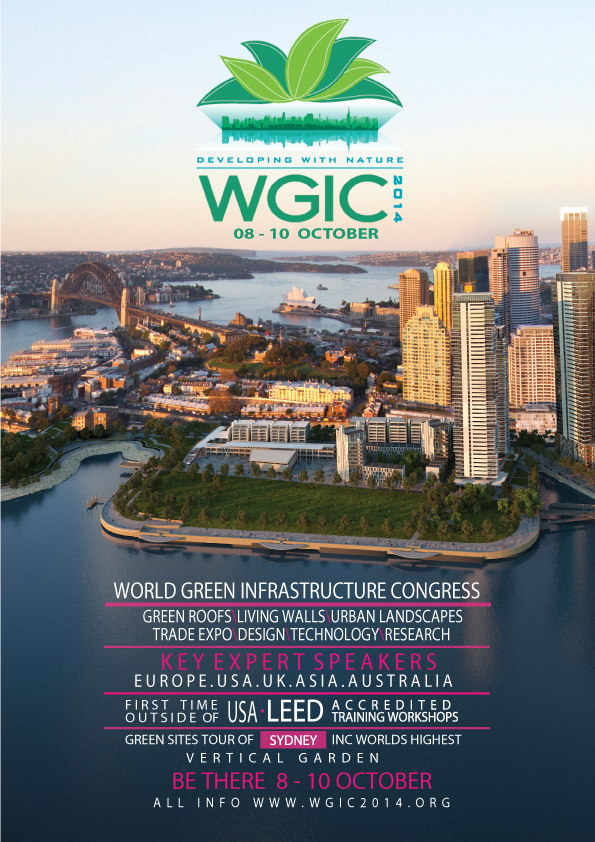 All GRA Members will get a 50% Discount for the WGIC2014, just follow the link to:


REGISTER NOW and PLAN to BE THERE
Warm Regards,
Matthew Dillon
GRA President
WGIC2014 WORKSHOP 1:
GREEN ROOF INFRASTRUCTURE: DESIGN AND INSTALLATION:
Saturday, 09:00 - 16:00, 11 October
This USA LEED Accredited Training Course has never been available outside the USA … until now. This is a one off opportunity to receive Professional Development from USA Landscape Architect Jeffery Bruce who is a world leader in this discipline.
Workshop 1 Presenter: Jeffery Bruce, Landscape Architect, USA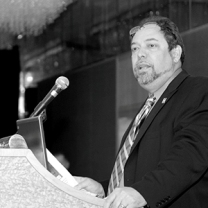 Jeffrey Bruce is a landscape architect who is at the forefront of green infrastructure development in the USA with global acclaim for his skill-set on large scale Capital City projects such as 'Millenium Park' in Chicago collaborating with Frank Gehry and Kathryn Gustafson.
Jeffrey L. Bruce, FASLA, is Owner of Jeffrey L. Bruce & Company (JBC) a national landscape architectural firm. Founded in 1986, JBC provides highly specialized technical support to many of the nation's leading Architectural and Landscape Architectural firms on a wide variety of project profiles including engineered soils, green roof technologies, urban agronomy, performance sports turf, and irrigation engineering.
Mr. Bruce's accomplishments, commitment and vision are well documented. He has received over 60 separate design and leadership awards. Award winning projects by Jeffrey L. Bruce & Company, have been published 85 times.
WGIC2014 Full Congress Registration $280.00
Register & Receive 50% Discount on Training Workshops !
Workshop 1: GREEN ROOF INFRASTRUCTURE: DESIGN AND INSTALLATION $199.00
Course Manuals will be provided at registration and a Certificate will be issued upon completion for CPD point accreditation.
GREEN ROOFS AUSTRALASIA ANNUAL GENERAL MEETING
TIME / DATE:  17:00  TUESDAY  7TH OCTOBER
VENUE:   BOARD ROOM  AUSTRARALIAN TECHNOLOGY PARK, REDFERN, SYDNEY.

GRA BOARD MEETING 17:00 - 18:30
AGM ALL MEMBERS WELCOME: 18:30 - 19:30
Please join us at the Congress and the AGM to have your say about how GRA and to hear about future plans for 2015. We need your involvement and participation.
19:30 - 21:00 Join us for Dinner after the AGM.
The AGM Agenda will follow and be posted on the GRA website as a PDF.