202020 Vision Green projects
Have a look at some of registered green spaces in the 202020 Vison campaign.
Misson: 20% more green spaces in urban areas by 202020!
Burnley Living Roofs by HASSELL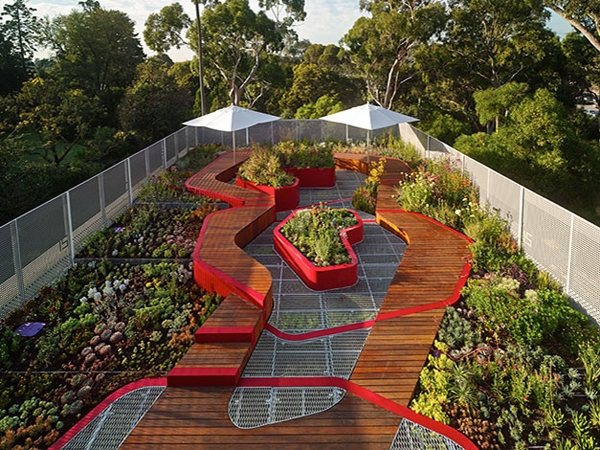 With three separate roofs, each serving a specific function, the University of Melbourne is able to continue its pioneering research that will provide information and advice to inform new guidelines on the design implementation of green roofs in Australian conditions. Not only is it a green space itself, but it is actively trying to improve future green spaces.
Australian Red Cross Blood Service by Outlines Landscape Architecture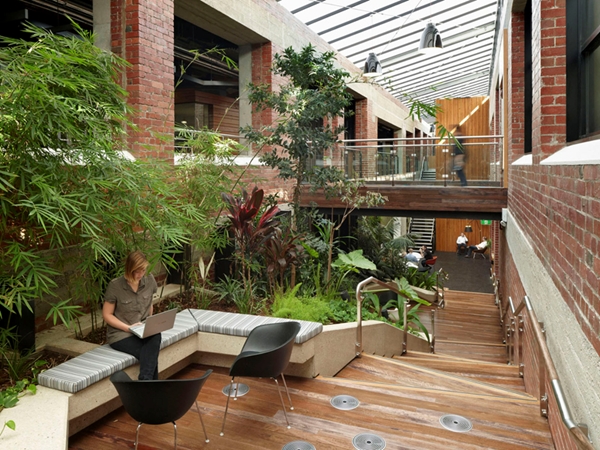 Outlines Landscape Architecture relished the opportunity to introduce greenery to the former industrial building. The centre reclaims a generous amount of internal and rooftop floor space for planting. It is a great example of how retrofitted spaces can incorporate a bit of greenery.
NAB Head Office 700 Bourke St by Australian Native Landscape Constructions
This rooftop garden complements the building's multi-coloured kite-shaped design. The green roof features bluestone and granite flagstone paving, timber decking, custom furniture, hanging baskets, bamboo plants, outdoor kitchen and a herb garden. This rooftop garden shows how commercial buildings can include a sustainable urban space as well as still being a fully functional office. Designed by Hassell Landscape Architects.
Vertical gardens and planter boxes at One Central Park by Frasers Property Australian and Sekisui House Australia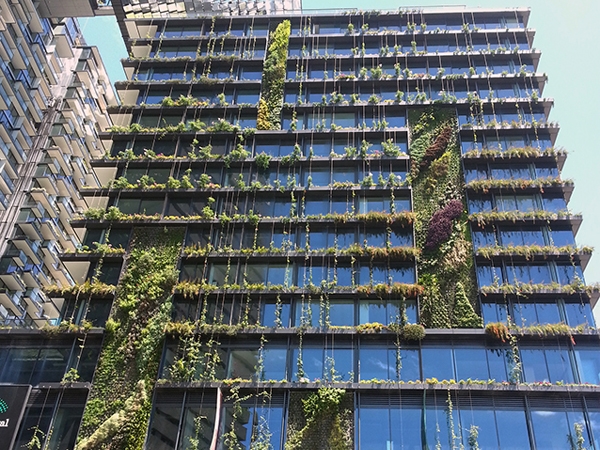 As one of the largest green facades ever undertaken on a residential tower in Australia, One Central Park's living wall incorporates planter grown vines and cascading plants. More than 2,700 planter boxes were installed, stretching more than seven linear kilometres around the cutting edge structure. This green facade is a great example of where tall buildings should be heading in order to help combat the 'urban heat island effect'.
The Goods Line by ASPECT Studios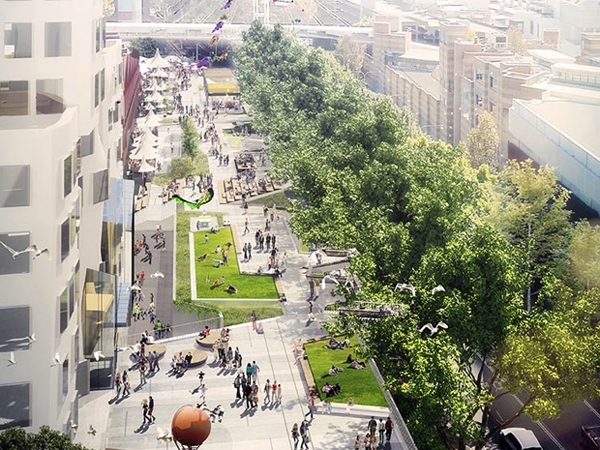 The Goods Line project is set to convert a 500m stretch of disused railway track, running from the Devonshire St Pedestrian tunnel through to Ultimo and the Powerhouse Museum, into an urban park and public space, akin to the High Line in New York. This project will be an example of how unused spaces can be changed to add a bit of colour to urban environments.
For more green space projects visit: 202020 Vision