Asia's first vertical forest is a game-changer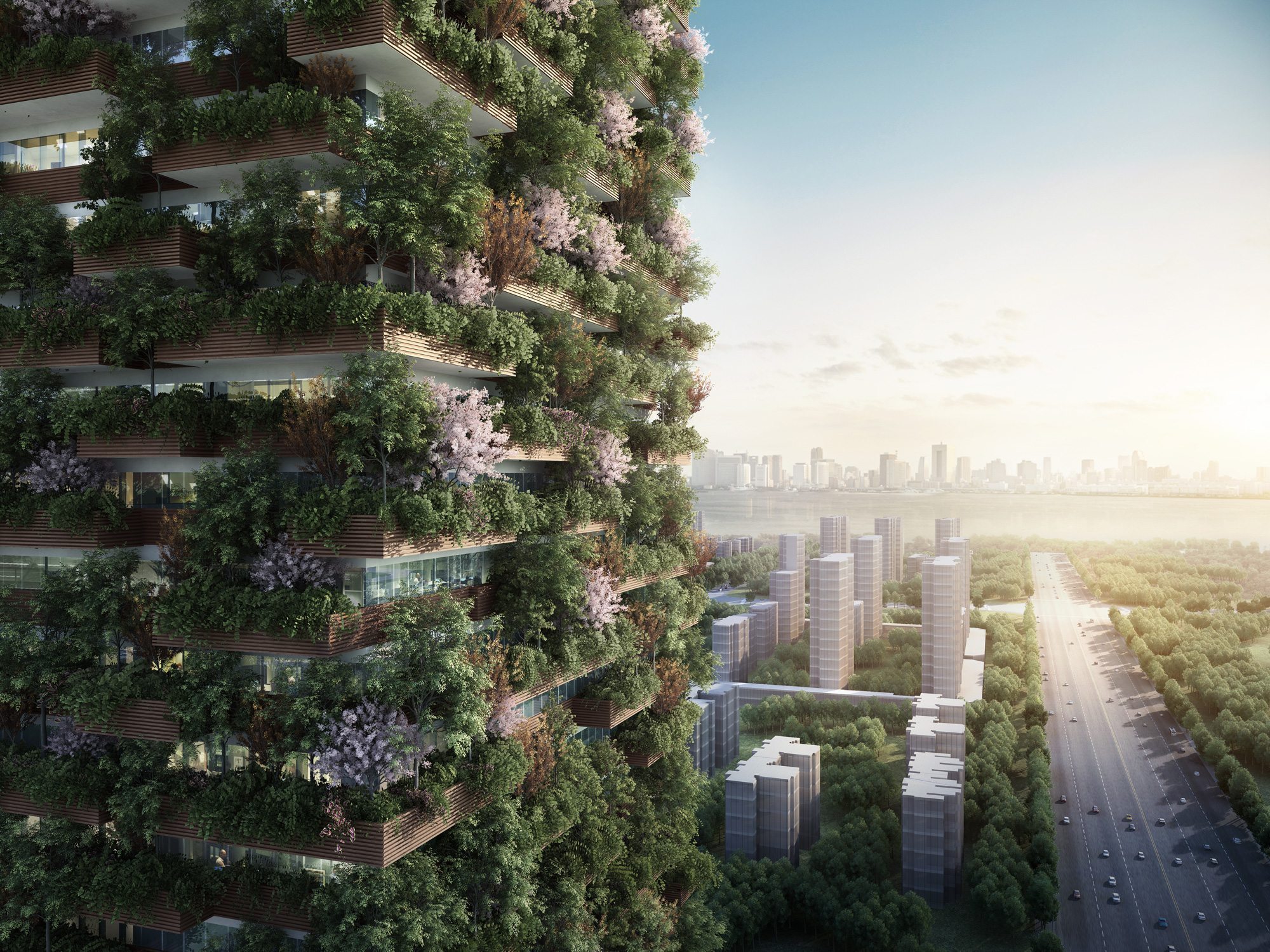 It might seem like blue-sky dreaming to imagine a Chinese city where you cannot see the buildings for the trees. But Italian architect Stefano Boeri can see it, and is crafting its beginnings in Nanjing, which he says will be home to the first vertical forest in China and Asia.A move against nature-deprived urban development, vertical forests differ from the green walls and roof gardens popularised in recent times because they grow trees as opposed to vines or small potted plants.
A vertical forest is "a model for a sustainable residential building" that could actually be a solution to climate change, Boeri believes.
He first realised his concept of metropolitan reforestation with a vertical forest in Milan. Spread across two residential towers, the project, completed in 2014, featured 800 trees (each measuring three, six or nine metres tall), 4,500 shrubs and 15,000 plants.
His Nanjing Green Towers project, in China's eastern Jiangsu province, will be bigger. It will again be based on two residential towers, but they will be higher than the ones in Milan (at 200 metres and 108 metres) and the plantings will include 1,100 trees along with 2,500 cascading plants and shrubs. The trees will come from 23 local species including holm oak, wild pear, koelreuteria, ornamental apple tree and hawthorn.
The Nanjing project will be the third of Boeri's vertical forest prototypes – after Milan and Eindhoven in the Netherlands (a social housing project due for completion in July 2019) – and the first for Asia. Completion is slated for the end of 2019.
The plantings, which are currently being tended in local nurseries, will absorb 25 tonnes of carbon dioxide a year and produce about 60kg of oxygen per day. Boeri bases these projections on the sensors in place in Milan. He says that air quality has improved at that project and the "heat island" effect and energy consumption reduced. Also, a "surprising" array of wildlife – including more than 20 species of birds – have set up home there.
Because of the interest he has received from China, Boeri set up a Shanghai branch of his firm, Stefano Boeri Architetti (SBA), in 2014. In addition to Nanjing, the company is undertaking other urban greening projects in the country, including one in Shanghai.
Boeri says that 75 per cent of carbon dioxide in the atmosphere is produced by cities. Given that, he explains, growing tall trees on the sides of buildings and in horizontal green corridors is a highly efficient, pragmatic and inexpensive way to reverse climate change.Unlike hydroponic systems just for plants, trees needs to be planted in a solid soil base. In Boeri's vertical forests, where trees grow on purpose-built balconies, he needs species that are not too heavy, nor so light that they will be uprooted in extremely windy conditions. "That's why one of the main issues was to find the right chemical composition of soil," he says.
Not all of Boeri's ambitions for China may come to fruition. A "forest city" concept commissioned for Liuzhou, a city in the southern Guangxi province, where plants and trees would entirely cover an area of offices, houses, hotels, hospitals and schools, has not proceeded to construction, although the architect remains hopeful. He believes that, thanks in no small part to its support for "urban forestry", China could go from being the world's biggest polluter to a leader in reversing climate change.
When such ambitious green buildings started springing up, not everyone was convinced of the advantages. Appropriately detailed vertical gardens are expensive to construct and require a large amount of maintenance, says Richard Kirk, former president of the Australian Institute of Architects. In a hot and dry climate such as Australia's, he adds, they consume a lot of water, which affects the robustness of a vertical garden over the long term.
That is not a problem for the 23 green walls of One Central Park, a mixed-use building in Sydney. It is now five years since its 2013 completion which saw it become, at the time, the building with the largest planting coverage in the world. The plantings continue to thrive, sustained by an on-site recycling plant that collects rain and grey water and produces about one million litres of reusable water a day.
About 65,000 litres (6 per cent) of this irrigates the green walls, while the rest is used elsewhere in the complex and also irrigates parks and gardens around the 58,000 square metre (625,000 square foot) Central Park precinct in which it is situated.
Mark Giles, senior associate at Australian firm PTW Architects – the local collaborating firm on One Central Park – says the project helped establish the idea of green walls globally.
The system of plants, designed by French botanist Patrick Blanc, was installed and is maintained by local company Junglefy. More than 250,000 plants of 300 different species live on the building's various exteriors, in 5.5 kilometres of planter boxes.
Although the weight of these vertical gardens is not a significant issue, Giles says, robust waterproofing is required to prevent leaks and ultraviolet degradation.
"One Central Park shows that you can incorporate this technology, working with a developer who has their commercial objectives, and achieve an outcome that gives longevity and purpose to buildings," he says.
Giles says this approach shows that dense cities can also be sustainable. "The green walls and plantings of One Central Park are all part of the message about how we can create density with responsibility in our cities," he says.
Jock Gammon, who co-founded Junglefy with his wife Hanna in 2009, says much can be learned from One Central Park about how to bring plants to cities.
"In the past, 'living infrastructure' [including vertical gardens] was about aesthetics. Now it's become more functional, cleaning the air and introducing biodiversity," he says. He adds that foliage combined with shade provided by cantilevered planter boxes can substantially reduce heat load on a building – as is the case at One Central Park.
Some adjustments to the plantings have been required, however, since the building opened. "The green walls were the trickiest," Gammon says. Some species specified by Blanc did not do well in Australian conditions, while others grew too fast, demanding extra maintenance. "We have now refined the palette and also manage the irrigation and fertilising system to control the plant growth."
Despite the need for continuous care, Gammon believes that plants are as critical a piece of urban infrastructure as roads, water and electricity. "There's no doubt they make our cities more liveable. Developers know people want these types of buildings – they're not a fad," he says. "[But] you can easily cut corners on these projects and build them cheaply [and that's when they fail]."
The next advancement may be green walls that actively clean the air. The Junglefy Breathing Wall (patent pending) is a plant and ventilation system that draws in polluted air to be filtered and cooled by plant modules, reducing the amount of carbon dioxide in the air by 24.2 litres per hour.
"This is where we see the future," Gammon says. "Engineers can start to use greenery in their calculations of building performance and that really changes the whole landscape about why you're putting greenery in cities, and what benefits it can bring."
But success is not a given. Hong Kong landscape architect Patrick Lau Hing-tat, chairman of Earthasia International and member of the government's Urban Forestry Advisory Panel, says there is a danger if the only incentive for a developer to use a green wall is to satisfy a required green ratio. With no long-term responsibility for its upkeep, the plants will die and, in some cases, be replaced by artificial greenery.
"Every morning when I go to work I come across green walls filled with plastic plants – which is rather ridiculous and defeats the purpose," he says.
Kirk adds that, even done well, green walls are only part of the solution.
"Piecemeal landscape placed high on a private building is not an ideal outcome for a city," he says. "We really should be getting the fundamentals right first where landscape is a major element in our streets and squares, creating new open spaces that are accessible, functional and green."
The potential for buildings to be "living lungs" that gobble up urban pollution will be explored at the World Forum on Urban Forests in Mantova, Italy, from November 28 to December 1. Boeri, one of the speakers, says representatives from more than 91 countries will attend, showing a collective will to embrace greenery as a way to turn back the tide of environmental destruction.
Source: South China Morning Post
Images: @Stefano Boeri