Australian project recognized in Europe's oldest built environment awards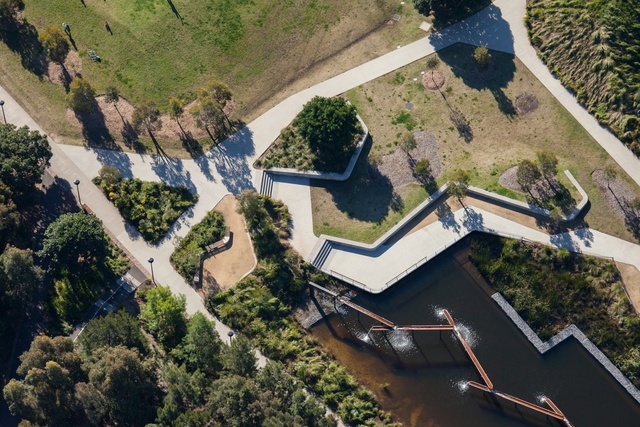 The Sydney Park Water Re-use project by Turf Design Studio and Environmental Partnership is in the running for Europe's oldest award for the built environment, the Civic Trust Awards, which aim to "encourage the very best architecture in the built environment" and to "reward projects that offer a positive cultural, social, economic or environmental benefit to their local communities."
The project is among 60 projects selected from 234 submissions around the world, of which only 11 are from outside the United Kingdom.
Other projects in the running include Francis Kéré's 2017 Serpentine Pavilion, phase one of the Central European University in Budapest by O'Donnell and Tuomey with Teampannon and a memorial to Sean Collier, the police officer slain in the pursuit of the perpetrators of the 2013 Boston Marathon bombings, by Howeler and Yoon Architecture.
A collaboration with the City of Sydney, Turf Design Studio and Environmental Partnership were dually responsible for rehabilitation of 40 hectares of former landfill into a public park. The project also included the creation of the city's largest stormwater harvesting and re-use facility, capable of retaining 850 million litres of water annually. It is hoped that the sophisticated piece of green infrastructure, made through the stitching-together of four ponds and a number of stormwater drains, will reduce the City of Sydney's potable water demand by 10 percent before 2030.
"Turf Design Studio and Environmental Partnership have transformed the park, literally bringing the wetlands and the story of water treatment to life in the park's ecosystems and in the community's imagination," said Sydney lord mayor Clover Moore. 
"Through the chain of wetlands, connected by weirs, bridges, paths and stepping stones, the designers have created delightful places in the park's landscape, connecting community and nature."
Also involved were artists Jennifer Turpin and Michaelie Crawford, who were responsible for Water Falls, an integrated sculpture built from a number of open terracotta pipes – a nod to the site's history as a brickworks – which carries water along the surface of the lagoon in a spindly viaduct. 
The project won the 2016 Australian Award for Urban Design in the Delivered Outcome – Large Scale category. 
In its citation, the jury said, "The design provides a bold, high-quality and conscientious enhancement of public space that is interconnected with the surrounding urban environment through water collection and re-use, connectivity and the provision of recreational space."
Reviewing Sydney Park for Landscape Architecture Australiain 2016, former editor Ricky Ray Ricardo praised the project's "masterful choreography of stormwater." 
He also noted that, given the realities of climate change, the project "demonstrates the kind of integrated approach needed to prepare our cities for the century ahead." 
The Civic Trust Awards were established in 1959 by the Civic Trust charity. When the trust folded in 2009, the awards program was continued independently. 
The recipients of awards and commendations will be announced on 9 March 2018 at Old Trafford stadium in Manchester.
ARTICLE & IMAGE SOURCE: ArchitectureAU