A generous green roof, as a cut-out and folded landscape, forms the largest space-forming element of the house. The lightweight timber construction with a ventilated metal facade and large glass elements form the remaining outer skin surfaces. The intersection of the massive terrace plateau with the edge of the terrain forms only a partial adaptation to the topography, which is why the building stands out from the terrain on the North and West side.
The heart of the house is the five-meter high, ground floor living room, from which all rooms, the garden and the terrace plateau with the pool are accessible. As a structurally shielded room, the tent-like sleeping and relaxation area is on the upper floor and is connected to the roof terrace by a cut in the green roof. Rooms and surfaces flow into one another. Be it the three-sided chimney stove between the living and working space, which grows out of the wall construction and allows a view through the combustion chamber into the study, or the concrete floor and the soffit of the roof, both of which extend through the frameless glass facade from the inside to the outside. The inclusion of nature and the environment is emphasized even more by these outwardly flowing transitions.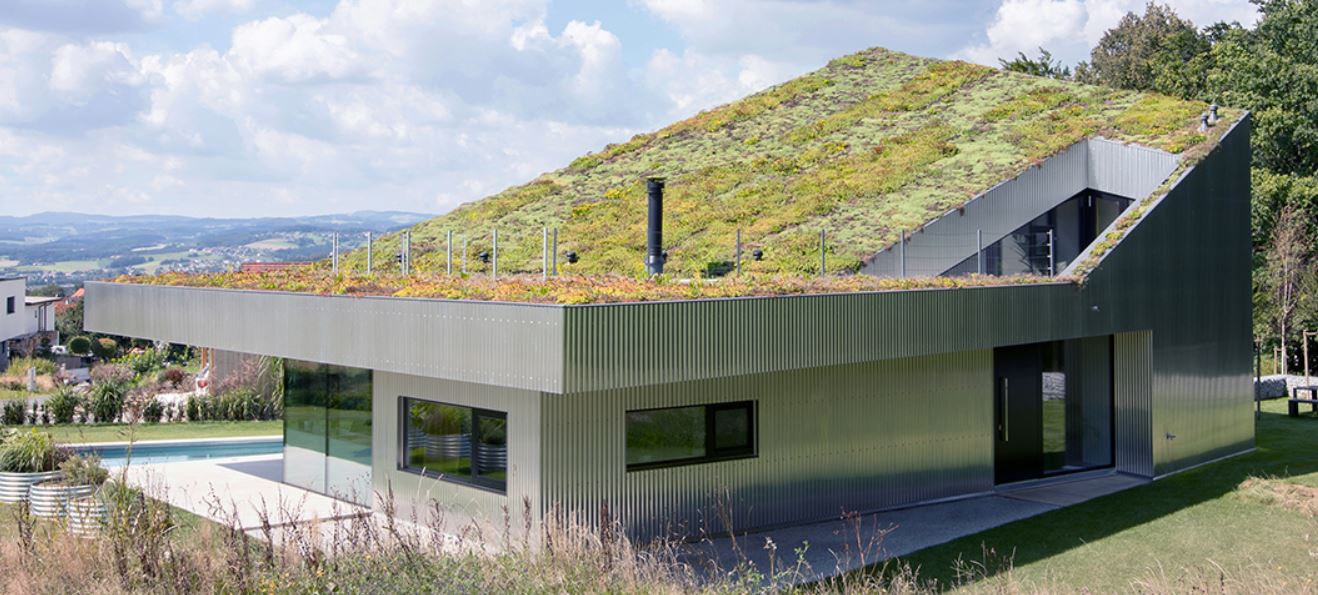 The entire construction of the house was made of a light wooden frame construction combined with partially visible steel construction. The floor slab in contact with the ground is made of solid concrete and at the same time forms the finished, polished and waxed floor surface. It also serves as a storage mass element, compensating for the light roof construction. The building climate is also regulated by the large green roof area, it serves as structural sun and heat protection in the southwest, favoured by its thick vegetation layer. The vertical facade is ventilated from behind by a natural aluminium corrugated iron facade suspended on a wooden structure.
The sustainable and efficient concept of the building is underlined by using untreated wood as a building material for parts of the interior work, raw untreated corrugated aluminium sheet for the facade, or planted roofing. The land area covered approximately 852 sq m, 246 sq m of which was the base area and 205 sq m was usable.