Community Daycare Centre_Singapore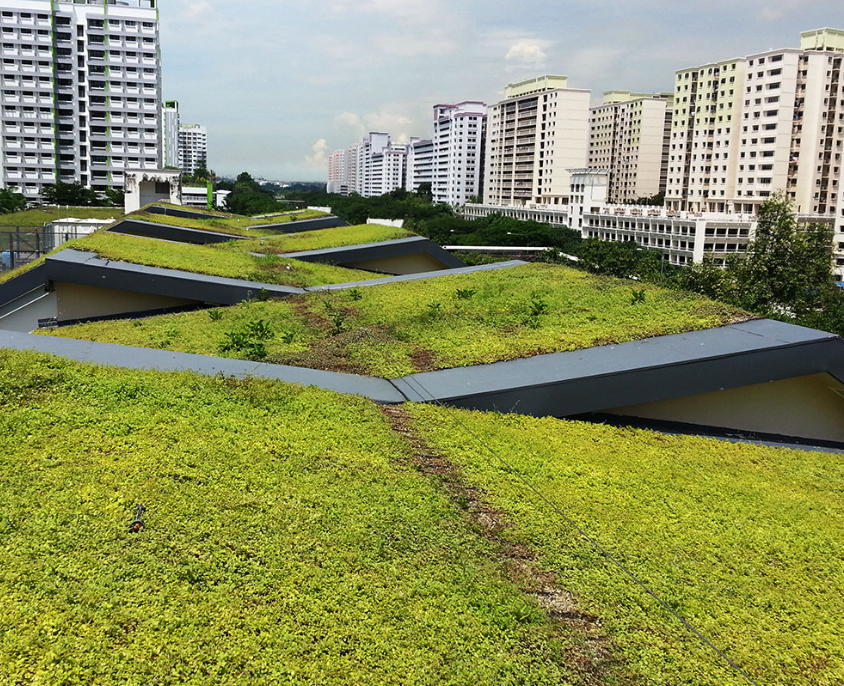 Singapore's Housing & Development Board (or HDB) builds homes and transforms towns to create a quality living environment for all. Currently, more than 80% of Singaporeans live in over 1 million apartments in 23 towns across the island.
The National Trades Union Congress (or NTUC) is a network of professional associations and as childcare centre operators, the vision for NTUC's My First Skool is to be a thought and practice leader.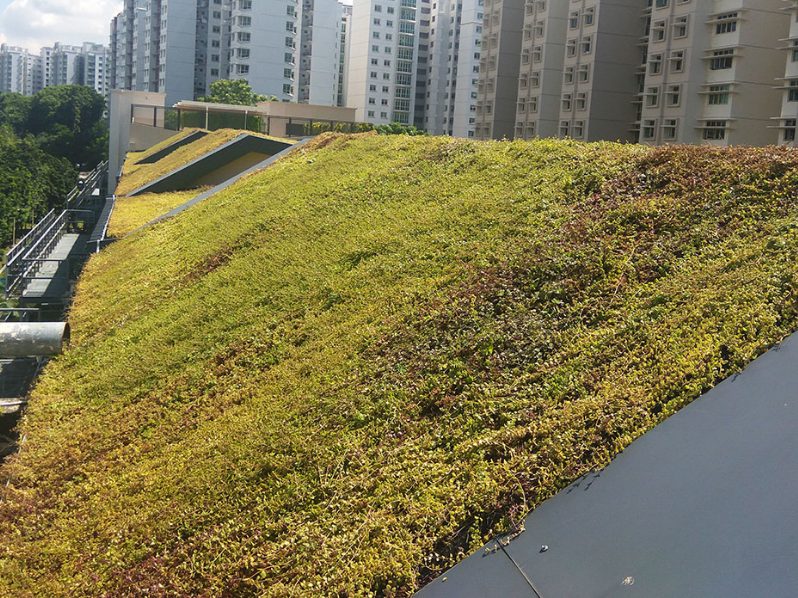 Located within the area's housing estate in the eco-town of in Punggol, HDB aimed to retrofit the sloped roof of the My First Skool daycare centre with a green roof to lower interior temperature and air conditioning use, reduce noise level for children, and cut reflective glare. Since it is located on top of a 6th-floor car park and is overlooked by the residents living in neighboring high rise housing blocks, the HDB also wanted to create a pleasant view.
Designed by Freight Architects, the roof is constructed with structural metal panels, forming seven individual sections that are pitched at various combinations of gradients at 8°, 29° and 32° for architectural appeal.
The pre-vegetated mats contain small low-profile tropical succulents such as Sedum sarmentosum, three types of Portulaca, and Plectranthus prostratus that are pre-grown in local nurseries to a minimum vegetation coverage of 80% before delivery for an instant green effect with seasonal visual interest.
Initially, shade cloth was used to cover the entire green roof to allow the plants to root firmly into the water retention fleece underneath, removed after two weeks. 
In addition, the My First Skool NTUC Punggol Community Daycare Centre green roof was designed as part of the sustainable water management effort that contributes to Singapore's Public Utility Board's Active Beautiful Clean Waters Programme, a strategic initiative to improve the quality of water and life.
The green roof helps to support community effort to contribute positively to the environment and water bodies.
Courtesy of GREENROOFS.COM