Defence Housing Australia unveils its first 6-Star Green Star development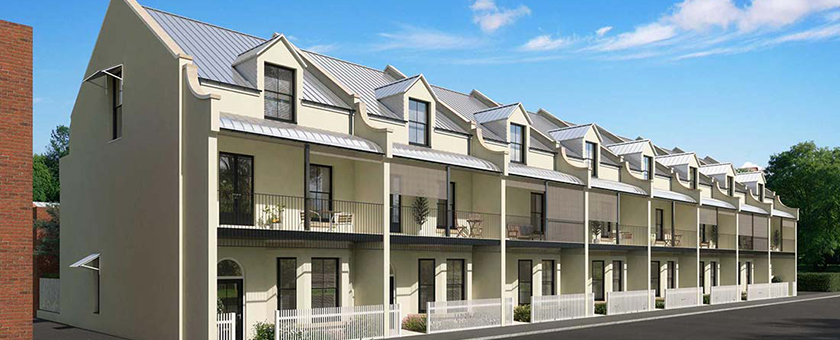 Defence Housing Australia (DHA) says it has released some of the country's greenest homes in suburban Adelaide.
Known as The Prince's Terrace Adelaide and set in the growing Bowden precinct, the project, which was a first for DHA, was three-way partnership between DHA, The Prince's Trust Australia and Renewal SA to create a mix of eight terraces and four apartments.
According to DHA chairman Sandy Macdonald, the project demonstrated leadership in sustainable design, with each home predicted to use at least 50 percent less energy and potable water than a typical townhouse.
"There will also be a 55 percent reduction in greenhouse gas emissions in comparison to a standard home," says Macdonald.
"Furthermore, an impressive 95 percent of all waste generated throughout the construction on site has been recycled," he says.
Macdonald says the project was a collaboration between DHA, The Prince's Trust Australia and Renewal SA, and was the first residential project to receive a 6-Star Green Star design rating from the Green Building Council of Australia (GBCA).
During the construction, DHA says they were committed to not only sourcing sustainable products but ensuring that emissions hidden in the supply chain were also reduced.
This included indirect emissions produced during the manufacturing and transportation of materials.
"Remaining emissions are offset elsewhere throughout the development through the use of renewable energy or energy efficiency," says Macdonald. 
"Efficient floor plans were designed to take advantage of natural elements, combined with an emphasis on local, low-carbon materials. Every part of construction was considered from a sustainable perspective."
"Every fixture, fitting, product and supplier used in the building complies with Green Star criteria to reduce hidden emissions," he says, adding that, "Hundreds of certified and accredited materials were sourced including sustainably-sourced timber, locally-sourced steel, water-efficient fixtures as well as environmentally friendly plasterboard, carpets, door hardware, PVC products and low-toxicity paints and sealants."
Macdonald went on to say that, "All three organisations involved in this project—DHA, The Prince's Trust Australia and Renewal SA hope to share our findings and experience with local industry and by doing so, help others make more sustainable choices."
ARTICLE SOURCE: Architecture & Design
IMAGE SOURCE: Defence Housing Australia