Developer to build landmark green wall across seven storeys of new Verde apartment project
Seven storeys of the north and south-facing walls of Verde will be covered in 480sq m of plants including herbs and succulents.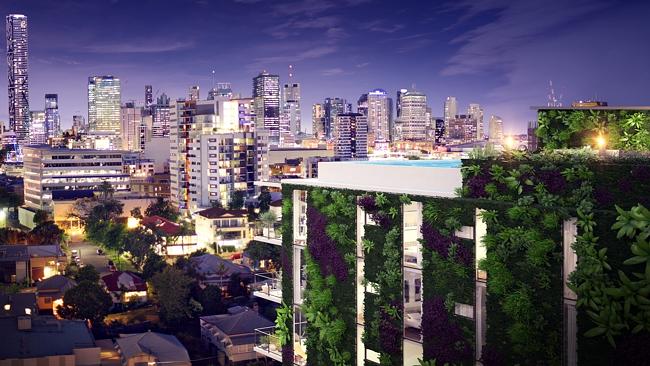 VCP Developments and Modern Architecture Practice spokesman Paul Obod said the 12-storey, 82 apartment project would celebrate Brisbane's tropical, outdoor lifestyle.
"No one in Australia is doing it properly. Our green wall will embrace the environment and become a landmark," he said.
Brisbane green wall designer David Thompson from Plant Up said any design more than 250sq m was considered large on a world scale.
He said it was pleasing to see a number of Brisbane projects now featuring green walls with Newstead Central, Soda and Botanica all adding to the vertical trend.
"It's really exciting to see so much green infrastructure being introduced to the concrete jungle," he said.
Mr Obod said Verde blended cutting-edge design and innovation with sought-after luxuries including a rooftop infinity pool and barbecue area.
Less than 1.2km from the city, Verde will offer one, two and three-bedroom apartments with Miele kitchen appliances, stone benchtops and bathroom accessories from European designer Rogerseller.
The development is being marketed by CBRE Residential Projects and project director Jon Rivera said Verde was an opportunity buyers could usually only dream of. "It's almost impossible to find a high-end, environmentally conscience apartment less than 15 minutes from the CBD in Sydney or Melbourne for less than a million dollars," he said.
Verde starts at $385,000 with two bedrooms from $585,000 and three from $1.4 million.
Original article published @ news.com.au