Green Roof Containers_UK
Fraser Brown MacKenna Architects has obtained planning permission for a development of micro homes made from shipping containers with green roofs in Aylesbury, England.
Gatehouse Road is a low-cost housing scheme that is part of a series of regeneration plans for underused sites owned by the Vale of Aylesbury Housing Trust. Currently the site is occupied by garages.
Fraser Brown MacKenna Architects (FBM Architects) has designed a 26.2-square-metre home that can fit inside each container. The one-bedroom studios will be rented out as social housing or student accommodation.
According to the architecture studio recycled shipping containers were chosen for the project to keep costs low and allow off-site prefabrication, while re-using existing structures would have an environmental benefit.
The containers will be arranged in a terrace formation, progressively stepped back from each other to create a private decked area at the front of each micro home. This arrangement also avoids a major sewer pipe running through the Gatehouse Road site.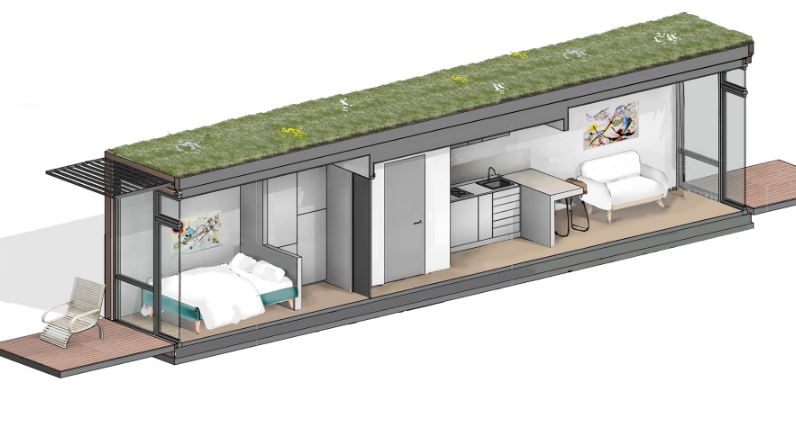 Inside each brightly coloured container the micro homes are arranged in a linear fashion, with a living and kitchen area at the front, a separate bathroom, and a bedroom at the rear. Porches are placed at either end.
Insulation will be added to the walls, roofs and floors of the shipping containers, along with double-glazing at either end, to keep emissions and heating bills low.