Greenwall's Mark Paul of Mosman revitalises Qantas First vertical garden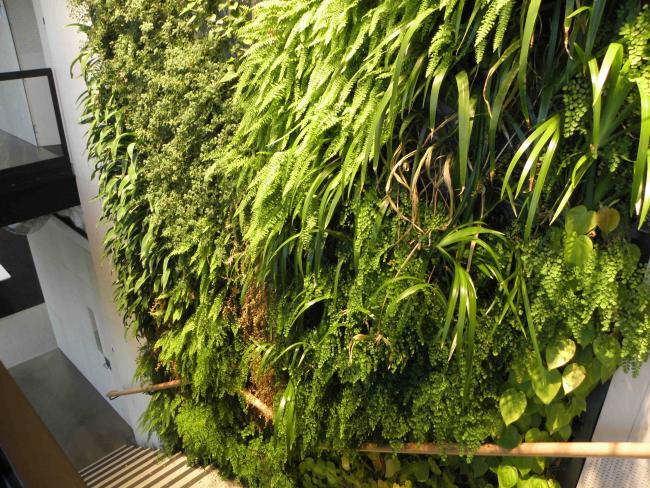 IT'S not often that someone's success could do them out of a job, but that might be a distant possibility for Mosman's Mark Paul and his rejuvenation of the iconic Qantas First green wall.
The 2012 Australian Horticulturist of the Year — who backed the honour up with the 2014 Community Award of Excellence — aims to maintain the sweeping wall of greenery less and less, while returning the wall to its almost self-sustainable roots.
The renowned Qantas International First Lounge in Sydney Airport celebrated its 10th anniversary last year.
Mr Paul was part of the original team behind the impressive natural entrance, designed by internationally celebrated tropical botanist Patrick Blanc, in the Marc Newson-designed lounge.
And there were less than six degrees of separation between the two Australians: Mr Paul's sister attended art school with Newson, so he knew the acclaimed industrial designer well.
Mr Paul, founder and director of The Greenwall Company, has "greened" countless parts of the built environment.
Greenwall's projects include a waterside man cave in Mosman, a private harbourside barbecue area in Point Piper, a pond wall in a Vaucluse home, a wall at Mosman Prep School, Google headquarters in Pyrmont and Australia's first six-star green-rated building, The Gauge in Melbourne.
Mr Paul, a former marine biologist who worked for the CSIRO, estimates Greenwall has done almost 500 green wall projects and a similar number of green roofs in Australia alone. Greenwall has also worked on projects overseas in countries including New Zealand and Brazil.
People thought Mr Paul was "crazy" when he started making green walls almost three decades ago: "It seemed like a strange thing to do — I started building panels of them," he said.
"So, we used to get asked to go and put those plants into gardens on trees and on rock walls around Sydney."
Indeed, Mr Paul previously hosted presentations about his work, called "Going out on a limb", and is considered a pioneer of the green wall in Australia.
He began focusing on green walls and roofs about 16 years ago, inspired by his passion for lithophytic and epiphytic plants and their habitats.
"I could start coating cities in them so, that's what we have gone on to do," Mr Paul said.
"I was influenced by my maternal grandmother: she came from Ireland, I think, in the Depression and she grew everything from cuttings and seeds.
"So, everything was borrowed, given or whatever and so, I was always interested in that group of plants: orchids, bromeliads and stuff, which grow on trees or on rocks."
The horticulturist's love of plants which find homes on trees and rocks is reflected in his renewed work on the Qantas First green wall. Patrick Blanc asked him to revisit the project.
The wall remains one of Greenwall's largest in the country, indoor or outdoor: "There are rarely projects over 400sq m and this is right in that category so, it was a big project for Australia," Mr Paul said.
"Overseas in Singapore and New Zealand, we have done 10,000sq m projects and they come up on plans here, but in reality, they end up being no bigger than 400sq m."
To read the remainder of this article and view the photos, please visit The Daily Telegraph.
ARTICLE & IMAGE SOURCE: https://www.dailytelegraph.com.au/newslocal/mosman-daily/greenwalls-mark...