How US cities are driving growth in the green roof market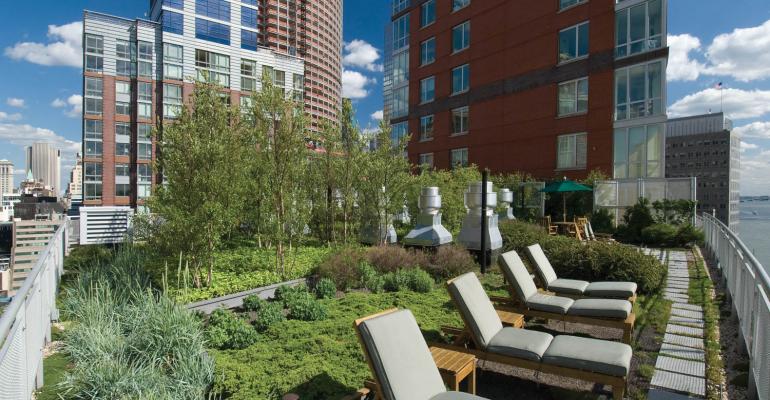 Now widely popular across the United States, green roofs, also called living roofs, are roofs partially or entirely covered with vegetation. These alternative, aesthetically pleasing roofing options provide longevity and oxygen production, offer savings in heating and cooling costs, and minimize water runoff.
Here in the U.S., the demand for green roofing solutions is growing for homeowners, business owners, and developers. Many major cities have adopted specific ordinances requiring green roofing on new buildings to assist in the battle against climate change. The demand for green buildings and environmentally friendly roofing solutions is driving fast growth in the roofing systems market, which is expected to top $157 billion by 2021.
San Francisco's Better Roofs Ordinance
San Francisco was the first to develop a mandate for green roofing. The city's Better Roofs Ordinance went into effect in January 2017, requiring that 15-30% of most new construction have either living or solar roofs. According to San Francisco's Planning Department website, rooftops represent more than 30% of the city's land area.
The ordinance provides flexibility for the designer and builder to "choose the best combination of solar photovoltaic, solar water heating and living roof systems to maximize benefits based on location and building program."
Denver's Green Roof Ordinance
Denver's citizens passed a green roof ordinance in November 2017; however, the initial measure was repealed after criticism that it was too inflexible. The Denver City Council repealed the initial law and replaced it with a cool roof initiative, offering additional options for builders.
As originally written, buildings would have required simple vegetation. The revised edition requires new buildings larger than 25,000 square feet to install a cool roof – a light-colored roof that reflects heat rather than absorbing it – and select from a list of other sustainable options.
Developers may choose whether to add green space, to include solar panels, to enroll in a flexible energy program, or to achieve a green building certification such as LEED. Re-roofing projects have the same requirements as new builds.
Ecoroof Requirements in Portland
In July 2018, Portland also introduced its own ordinance requiring new buildings of 20,000 square feet or larger built within the central city to have a complete living roof.
The policy is part of the Portland Central City 2035 Plan, with a goal "to ensure the city center becomes an even more thriving economic, cultural, educational and recreational hub for the region over the next 20+ years," according to information released by the city's Planning and Sustainability Department. The 2035 Plan replaces the City's former 1988 Central City Plan.
Chicago's Green Roof Initiative
Chicago was one of the first large U.S. urban centers to develop a living roof on a 38,800-square-foot rooftop. The 12-story project, completed in 2001, covered a full city block.
Almost a decade later in 2010, the city's Museum of Science and Industry needed a new gutter system and roofreplacement; the decision was made to incorporate 3,600 square feet of garden area and 21,000 square feet of PVC reflective roofing.
Since 2015, Chicago building ordinances also provide a floor-to-area ratio bonus to buildings in the downtown area that possess a green roof space that covers more than 50% of the roof.
Green Roof Policies Spreading
Cool roof and green roof initiatives are becoming more common as climate science and the advantages of energy efficiency become more widely accepted. These new policies mandate energy efficient roofing on new commercial and residential buildings in major urban centers around the United States. Some policies create strict requirements, while others offer tax benefits and other incentives to make the change.
In 1999, the American Society of Heating, Refrigerating, and Air-Conditioning Engineers (ASHRAE) first accredited cool roofs. The State of California followed suit in 2001. The cool roof law trend has spread steadily ever since, taking hold in the state of Florida and energy-sensitive cities like Chicago, New York, and more than 20 other major cities around the country.
As climate change advances and metropolitan areas face long periods of high summer temperatures, cool roofs offer a solution that appeals to politicians and voters alike. Combined with solar panels or vegetation, buildings may see a drastic reduction in energy use as well. The green roofing market will only continue to expand as more major cities recognize the benefits provided by cool roofs, solar photovoltaic panels, green spaces, and more.