A natural choice: Architects turn to wood for greener, healthier work spaces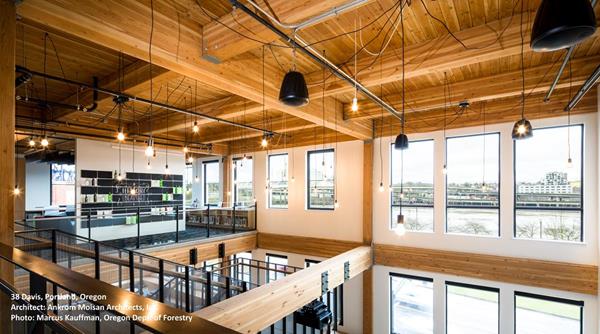 With research showing the average North American spends 90 percent of their time indoors, Think Wood advocates for the design of our buildings—particularly office spaces—to promote productivity, functionality, creativity and occupant wellbeing. Uses of wood as a structural or finishing material not only offer aesthetic beauty, but enhances indoor air quality, acoustics, thermal comfort, and energy efficiency. Perhaps most notably, it also has biophilic benefits—the innate wellness humans feel towards nature.
While adaptive reuse of existing spaces is fulfilling some of the demand for healthier, creative office spaces, new construction presents even greater opportunity. In a recent survey of architects, developers and other real estate professionals, 41 percent of respondents based in the U.S. said they expect to work on green commercial buildings in the coming years. More than half (52 percent) cited client demands as the main reason they would build green. Wood is an ideal building material to meet the needs of the market and the next generation of office workers.
Portland, Oregon-based Ankrom Moisan Architects is one of several innovative architecture firms that has designed its own office using wood. 38 Davis features a timber-frame structure with exposed glulam beams over a concrete podium, and other exposed wood, brick and concrete elements throughout that reflect the firm's sustainable values, creative culture and urban identity.
"We wanted our founding office to inspire, support and nurture the creativity of occupants working and living in the new building," said Murray Jenkins, executive vice president at Ankrom Moisan Architects. "The natural wood elements in the exposed structure and interior design not only provide warmth, texture and visual appeal, but the space fosters collaboration and enables us to thrive as a firm and as a community."
Clients in the commercial marketplace are increasingly looking for work environments that offer a flexible mix of work and meeting spaces for enhanced collaboration, provide acoustic and thermal comfort, and strike a balance between new and old design concepts. In addition to biophilic health benefits and lower environmental impact, wood construction and finishings create a warm, clean and inspiring atmosphere, and also incorporate state-of-the-art building performance like reduced noise, high air quality and compact, highly efficient HVAC technology.
For the remainder of this article, please click here.
ARTICLE & IMAGE SOURCE: Globe News Wire