Natural Habitats Green Wall aids in sustainability for the new Kathleen Kilgour Centre in Tauranga
The Kathleen Kilgour Centre officially opened at the Tauranga Hospital grounds, on the 6th of December 2014. This world class radiation treatment facility is the first private hospital to be built on public land and will treat both public and privately-funded cancer patients in the Bay of Plenty.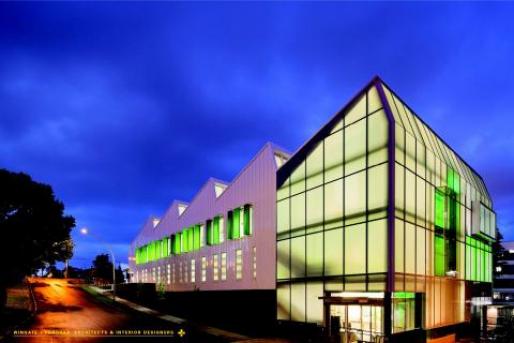 Mark Fraundorfer, the Centre's managing director and project head, said that the building is a real statement. It is seen as an integral part of the treatment by making the patient experience as comfortable as possible. Plants are known to help calm patients facing stressful situations.
"It is state of the art and functional, but the centre also creates a positive environment for patients, and there is a real focus on sustainability with climate control, rainwater harvesting and the Green Wall," he says.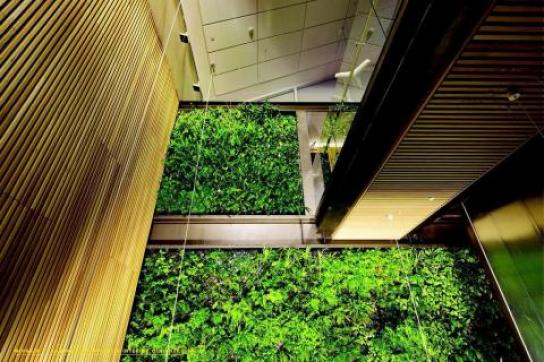 One of Dr Fraundorfer's favourite features is the fourteen metre high living Green Wall in the atrium at the south-western corner of the centre. Throughout the year it changes appearance, and the plants contribute to the quality of the air within the centre.
Created and maintained by Natural Habitats, the Green Wall is an iconic backdrop to the reception area, which patients actually walk through to their consultation rooms.
Linking all three levels is a glass atrium that contains the living wall of plants - 70m² in size. It is fed by six irrigation zones and is highlighted by mega-lighting, which is important for the growth of this interior wall.
The 3780 plants that make up the Green Wall are a mix of natives and exotic species to create a soothing, natural effect in the translucent panelled building.
It is also the first solar-powered radiotherapy facility in New Zealand, with photovoltaic cells on the roof to offset some of the energy consumption used in treatment and lighting.
"Roof light windows provide natural light so the need for artificial lighting is reduced. Heating, ventilation and air-conditioning energy consumption is minimised by opening panes that let in natural fresh air. Also, rain water off the roof is being used for the toilets and gardens, and much of the environment is climate controlled," Dr Fraundorfer explains.
The Building Intelligence Group has collaborated with a professional team including Architects Wingate+Farquar, Contractors Fletcher Construction and Quantity Surveyors Rider Levett Bucknall. The 3,000 m2 facility houses three treatment spaces and supporting clinical areas.
The Kathleen Kilgour Centre is also breaking new ground with its use of Building Information Modelling (BIM) – the generation of digital representations of a building's physical and functional characteristics. BIM enables a 'build before you build' process – pre-emptively avoiding errors during construction.
Article by Natural Habitats