New York Green Roof
SKY VIEW PARK PROJECT PROFILE: (Courtesy of <greenroofs.com>)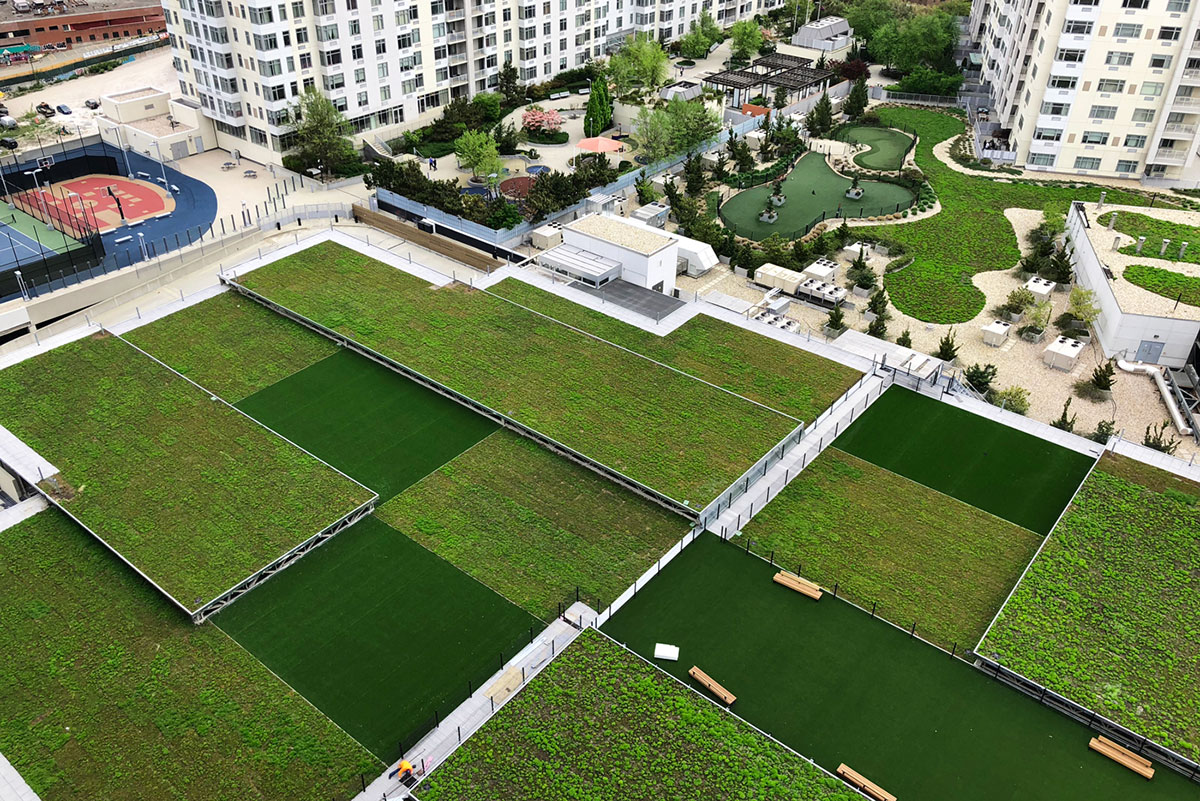 Sky View Parc NYC: Image: by Sempergreen.
Located in vibrant downtown Flushing, Sky View Parc is one of New York City's largest mixed-use developments with 1200 luxury units. Understanding the significant visual impact of roof design to the view from the surrounding six 12-story towers, the owner saw value in aesthetic green.
The entire roof top for the entire project (Phase I and II) was designed by Moss Gilday Group. Buildings for first phase was designed by Perkins Eastman and the second by architectsAlliance. The impressive Sky View Parc offers amazing views of Manhattan, a health club and spa that connect to the rooftop which includes outdoor sports, as well as a 55,000 sf multi-level green roof on top of the parking garage.
The building design incorporates a large stormwater storage tank to retain and detain stormwater, and is well-integrated with the landscape design to offer significant garden spaces and recreational areas for the residents to swim, barbecue, relax and enjoy.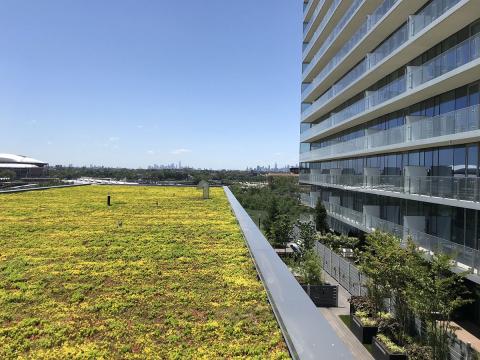 Sky View Parc boasts NYC's second largest green roof stormwater sponge, utilizing a purple-roof greenroof system from Sempergreen Moerings USA.
The roof creatively disguises the entire upper level of the 2,500 car parking garage with the vegetated roof, which was the final rooftop component connecting the east and west podium residential towers.
Sempergreen Moerings USA supplied Sedum mats offering a range of color variations. The terraced effect, combined with the ground level park and other green amenities, creates a cascading waterfall of vibrant green. 
Installation by Blondie's Treehouse took place in the middle of winter requiring a dedicated team of 20 lasting almost 3 months. Lack of staging space required creative storage and delivery planning including transporting 700 cubic yards of rooflite®'s Extensive 600, the ultra-light growing medium.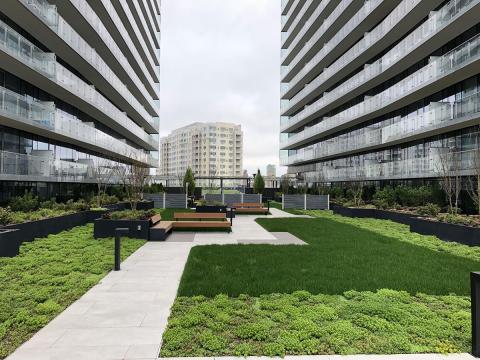 As the most visible exterior feature of the new luxury development, the success of the striking Sky View Parc has already led to further investment and infrastructure plans in the area.
#greenroof#greenroofs#greenwall#greenwalls#ecoroof#livingroof#biophilia#biophilicdesign#greengoals#greenbuilding#verticalgarden#greenarchitecture#livingarchitecture#livinginfrastructure#livingwalls#greenhome#livinghome#greenarchitecture