Plans unveiled for biophilic offices in Melbourne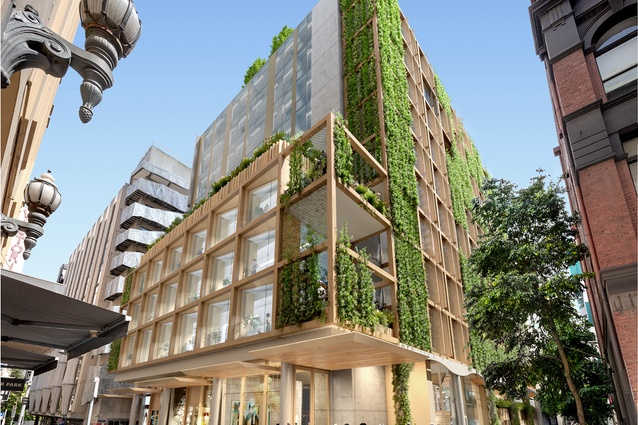 An entire block in central Melbourne encompassing council offices and the former Commonwealth Bank building would be remodelled under plans being considered by the City of Melbourne.
The $232 million Bourke Street Precinct Redevelopment project, to be designed by Designinc, would see the aging Council House 1 replaced with new premises, while the heritage-listed Commonwealth Bank building would be refurbished.
A series of new public spaces, connected by a series of laneways, would also be created, including a multi-tiered meeting space known as "the forum."
Melbourne mayor Sally Capp said the redevelopment would create a "new landmark for Melbourne" that would set the standard in terms of sustainable urban design.
"Our current Council House 1 building on Little Collins Street is more than 50 years old and it's no longer feasible to refurbish it," she said. "Redeveloping this site has opened up an opportunity to create a new civic precinct and also restore the Victorian Heritage-listed former Commonwealth Bank building on Bourke Street.
"Under the proposal, the heart of the precinct will contain a public forum – a large, flexible meeting space at ground level designed to encourage community engagement and participation in Council activities."
 The new 10-storey building would feature ground-floor retail spaces, two new laneway connections, commercial office space and two publicly accessible rooftops. The council would occupy seven storeys, while roughly half of the overall precinct would be occupied by third-party offices.
Designinc said in a design statement that the architectural massing of the redevelopment had been imagined as a sequence of buildings, with podiums, canopies, street walls and façade articulation combining to create variation in scale and form.  
The proposed building's facade expression would "reference the experience of approaching and entering a forest."
"The Little Collins Street and Royal Lane upper facades are envisioned as the canopy layer of the forest, expressed in a colour and material tone to reflect weathered bark," the statement reads.
"In contrast, the podium layers and public commons represent the understory, with a natural timber scaffold structure."
The public forum space on the ground plane would act as a direct public link between Royal Lane and Russell Place, with multiple entrances allowing the space to be permeable from street.
Designinc's design statement says that the forum would be designed in line with biophilic principles. "[It] is envisaged as a space that blurs the boundaries between indoors and outdoors," the statement reads. "The aim is to connect people to nature and provide an uplifting sanctuary for those using the space that has a positive impact on wellbeing and health."
The double-height space would feature extensive planting, use local, natural materials and feature lighting modes that could be set to mimic daylight to optimise circadian health.
Located along Russell Place would be the "Eastern Garden," a scaffold system, or "constructed ecosystem," that would support a range of landscape types and formats and a range of activities including circulation, collaboration and break-out.
Designinc said the buffer garden would "collect and absorb water, harvest the eastern sunlight and provide naturally ventilated work spaces."
Deputy mayor Arron Wood said the project would build on the sustainability successes of Council House 2, which was designed by Zimbabwean architect Mick Pearce and Design Inc and completed in 2006.
"We want to create a 'next generation' site that exceeds our achievements in creating CH2, Australia's first Six Star Green Star building 12 years ago," he said.
The council's Future Melbourne Committee will consider the project on 10 December, with a report from council management recommending the proposal be submitted to the Department of Environment, Land, Water and Planning for planning approval.
Subject to approval, the development is expected to begin construction in early 2020 for a  2024 completion.