Rethinking skyscrapers as neighbourhoods in the sky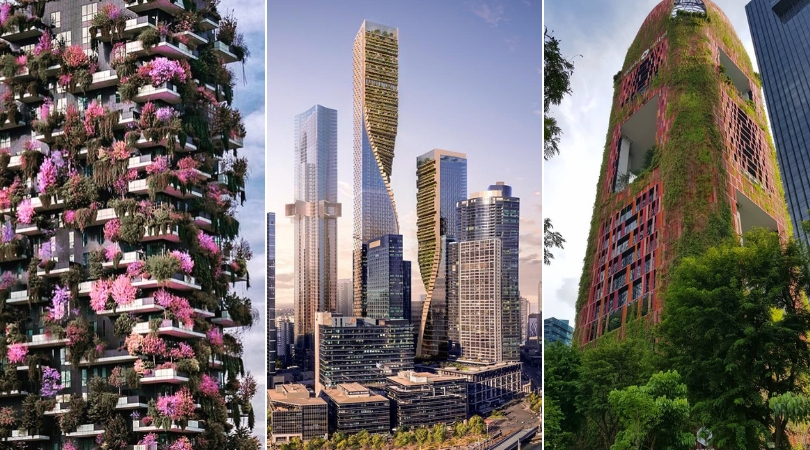 On his recent trip to Hong Kong, legendary Japanese architect Toyo Ito made a not-altogether-surprising admission: "I try to avoid skyscraper projects. If you're talking about high-rise buildings, you don't have any choice but to accumulate layers, which increases homogeneity – which leads to a feeling of alienation."
Despite this, even the Pritzker-winning designer has not been immune to the lure of skyscrapers. At Hong Kong's Business of Design Week last month, he talked about some of his rare tower projects, designed to chip away at the silo effect that keeps high-rise dwellers disconnected from the urban and natural environments around them.
One example is CapitaGreen, a Singapore tower that was completed in 2015 with a rooftop forest and plants that cover 50 per cent of its facade. Combined with a wind funnel that draws air into the centre of the tower, the greenery helps keep the structure several degrees cooler than its surroundings, reducing the need for air conditioning.
It says a lot when even a skyscraper-averse architect like Ito sees the benefit in building a better high-rise. For the first time in human history, more than 50 per cent of the world's population now lives in cities, more of which are beginning to resemble Hong Kong as they sprout vast forests of skyscrapers.
Densely packed high-rises are the most space efficient way to house people, but they have also been accused of creating anonymous, atomised cities.
"We can now build to almost any height we want," says Hong Kong-born, Vancouver-based architect James Cheng, whose pioneering tower flats helped to introduce high-rise living to the Canadian city. "But even if technology allows us to do whatever we want, you have social and cultural constraints. How do we retain a sense of humanness in our cities?" he asks.
There are environmental concerns, too. As Hong Kong has discovered in the last few decades, poorly planned skyscrapers can block air flow, worsening air pollution and the urban heat island effect, which keeps temperatures dangerously high on summer nights. Increasingly, though, architects have taken up the challenge of designing high-rises that make cities more sustainable in both an ecological and social sense.
"The first skyscrapers were built primarily for efficiency," says Ben van Berkel, founder and principal designer of Dutch architecture firm UNStudio, which has offices in Hong Kong and Shanghai.
Historically, high-rises have been little more than stacked boxes of offices or flats. "But now you can accommodate many more activities in a tower than you used to be able to do," he says.
Mixed-use buildings now combine shops, residences, hotels, offices and aerial public spaces in one structure – a whole new era for the skyscraper. Van Berkel describes it as "building neighbourhoods in the sky".
In the past several years, Van Berkel has worked on dozens of skyscraper projects around the world, including 11 in Asia. Many of these treat high-rise as a kind of design lab.
n Singapore, The Scotts Tower is divided into zones, each with its own sky garden and other gathering spaces that are meant to encourage a sense of community. In Seoul, UNStudio revamped Daegu Wolbae iPark – one of the city's many drab housing estates – with colourful new facades and lush ground-floor public spaces.
Seoul is also where the firm is renovating the headquarters of Hanwha, one of the large conglomerates that dominate South Korea's economy. The existing opaque glass facade is being replaced by a mixture of more transparent glass and sun-shading panels, with the goal of inviting more natural light into the building while also reducing solar heat gain on the parts of the buildings that receive the most sun. Interior spaces are being renovated with green walls and more gathering spaces, rather than just offices and boardrooms. New photovoltaic cells on the facade will power the building with solar energy.
UNStudio's latest tower project is the Green Spine, a pair of towers in Melbourne that will combine offices, residences and hotel rooms. The larger of the two towers is to become Australia's tallest when the project is completed in the early 2020s.
From afar, the buildings appear to have been sliced open like a vivisected animal, revealing the inner workings of each building. Closer inspection shows this is actually a curving spine of terraces and balconies overflowing with plants.
Van Berkel says the motivation for the cutaway design goes beyond the visual effect it creates. Not only do the abundant outdoor spaces create room for air-scrubbing, temperature-regulating greenery – similar to Italian architect Stefano Boeri's Bosco Verticale tower in Milan – the terraced form they create allows more light to reach the public spaces underneath.
These include a terraced public park that will sit atop a podium that contains a day care centre, school, library, cinema and auditorium.
Cheng says this kind of mixed-use approach is how cities can grow taller without sacrificing their liveability. "The trend is to create complete neighbourhoods," he says.
In the 1980s, Cheng became known for combining towers with town house podiums that enlivened the street with a variety of small-scale facades and entrances, rather than imposing blank walls. More recently, he master-planned projects such as Bjarke Ingels' Vancouver House, a curving residential tower that replaces the empty space beneath the approach to a bridge with a fine-grained mixture of shops and flats.
"High-rises can be isolating," says Cheng. "That's why the challenge of high-rises is no longer thinking about a single high-rise. It's about planning it like a complete neighbourhood. Our job needs to be to look at the evolution of cities into places where people want to walk on the street, where they want to meet each other."