The revitalisation of Waterloo
Image: Mastery Residential proposal for Waterloo, Sydney (Image_Crown Group)
Waterloo in Sydney isn't the suburb it used to be. A swag of new community facilities and developments are transforming the face of the former industrial heartland into a hip, thriving community.
The new Green Square library is the latest asset to be unveiled in Sydney's evolving inner-south. With an underground garden, open-air amphitheatre and six-storey glass tower, it's not your run-of-the-mill book lender. 
The library is part of a multimillion urban revamp of Green Square that includes a civic plaza along with an aquatic centre, parks and playgrounds, a childcare centre and a creative hub.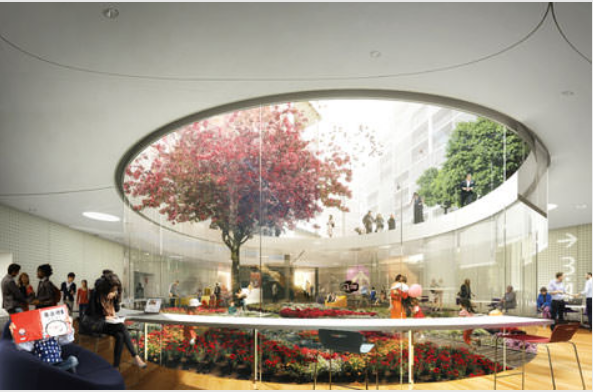 Image: Green Square Library interior green space providing biophilic benefits to users. (Image_Hassell)
The revitalisation project is having a positive flow-on effect in Waterloo, where real estate agent Pauline Goodyer says a younger demographic is entering the market. 
"People used to think of Waterloo as an investor market, but that's definitely changing," she says.
"You've  just got to look at Green Square and see what is happening here. There's going to be amazing infrastructure."
And while traffic gridlock in the area has been a bugbear for locals, all that's set to change. State government plans to decongest roads, including McEvoy Street in Waterloo, promise to ease peak-hour traffic. 
This all comes as welcome news to residents moving into new apartment developments in the suburb.
These developments offer a range of communal facilities. At Mastery by Crown Group, a five-building development bringing 374 new architect-designed apartments to Waterloo, residents can use a rooftop pool and gym.
Like the architect-designed library at Green Square, the development is setting a new bar for Waterloo's reinvention. Mastery's tallest tower, at 19-storeys, will be a "stacked forest" designed by famed Japanese architect Kengo Kuma.
Kuma's involvement in the project is a coup for Waterloo, says Iwan Sunito, Group CEO and chairman of development firm Crown Group.
"This is the only landmark building in Waterloo designed by a significant architects of this calibre," he says.
"For so many years I've been amazed by this architect called Kengo Kuma. He is one of the most famous people in Japan," Sunito says.
"One of the reasons for it to be called Mastery is because we wanted to bring master architects to design this precinct of five buildings. So Mastery is quite unique from the point of view that it's not just one building, it's a collection of five buildings."
At just 5 kilometres from the CBD and 7 kilometres from Sydney Airport, Waterloo's location is a big factor in the renaissance of the suburb. Sunito says this alone is drawing many homebuyers to the area.
"Waterloo's often described as the new Manhattan of Sydney, and what we are seeing is a lot of gentrification," he says.
"There's a younger, trendier culture emerging. So I see Mastery as a new tourist destination. 
"I hope it will become a legacy, so people will say you can build a beautiful building and be original about it."
Source: Domain