Up on the roof: birds, bees & biosolar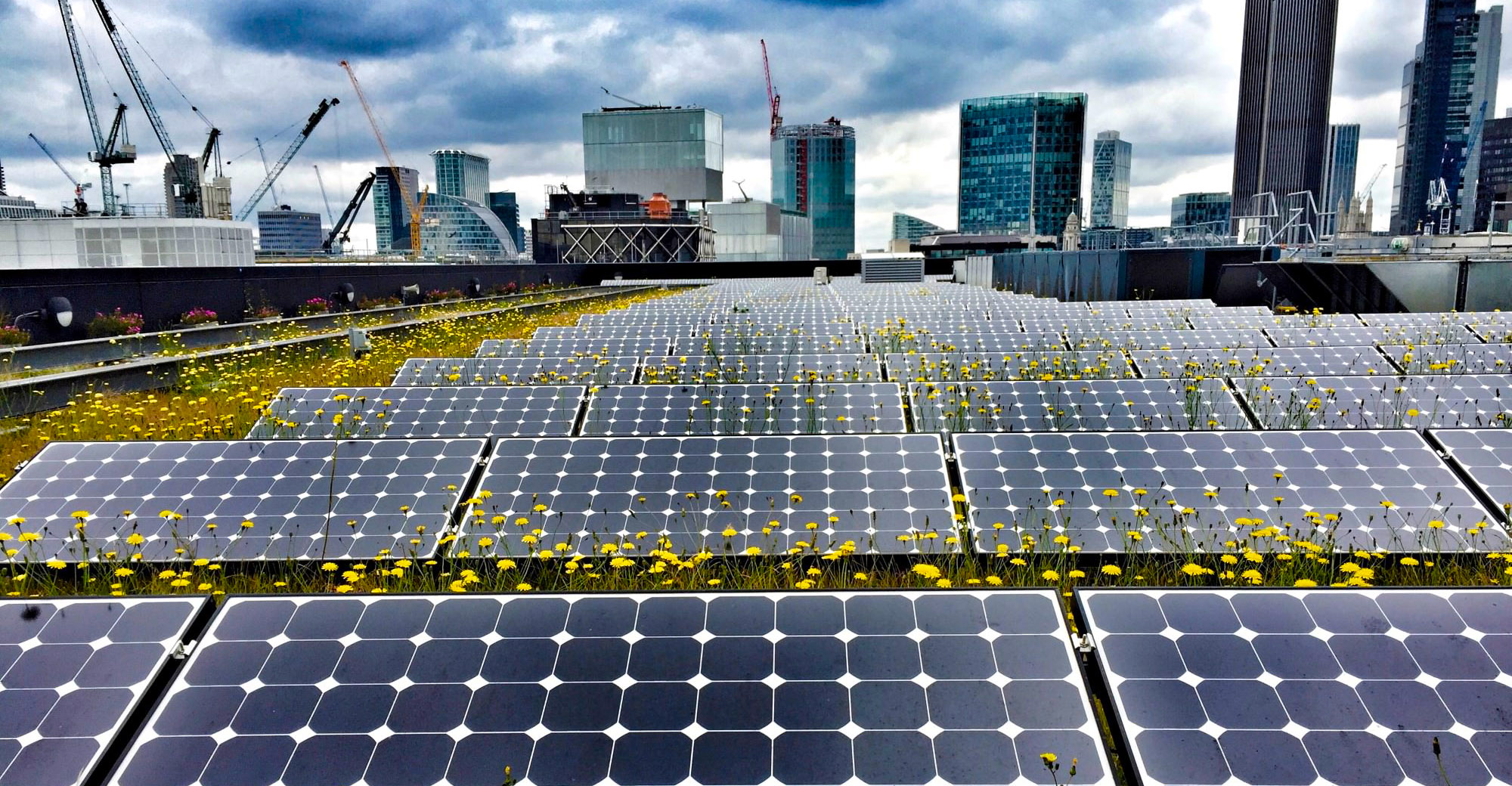 In times of booming urbanization, space in our cities is increasingly at a premium; yet, there exist acres of underutilized realty all around us…
This opportunity is not found beneath our feet, however, rather above our heads — it is up on the roof and one pioneering approach to harnessing its potential is called "biosolar."
As much about plant power as power plants, biosolar roofs combine the climate-ready advantages of green roofs with those of rooftop solar photovoltaics. Installations can be applied as newbuild or retrofit solutions and are ideal for projects in energy-hungry, but CO2-heavy cities, where development is dense and green space short on the ground.
Biosolar roofs allow the property owner or real-estate developer to satisfy requirements for renewable energy generation, at the same time as boosting biodiversity with urban greening. With on-site generation and living roofs common stipulations in planning requirements across much of Europe, schemes can simultaneously meet the needs of the low-carbon agenda and respond to green-infrastructure demands. They also contribute towards climate resilience by ameliorating effects of urban heat-island effect and reducing stormwater run-off. In short, biosolar offers a real win-win for green building.
This basket of multiple benefits makes biosolar an attractive prospect for sustainable cities. It is more than just a matter of the two solutions being able to coexist in situ, though — they are actually good for each other, explains Dusty Gedge, President of the European Federation of Green Roof and Wall Associations:
"The exciting thing about combining green roofs and solar panels is that evidence from Germany and Switzerland suggests vegetation and soils evapotranspiration can help keep panels cooler in summer. This can increase efficiency at peak periods of sunlight."
This performance boost is significant, according to urban ecologist Nathalie Baumann, Lecturer at Zurich University of Applied Sciences (ZHAW):
"Biosolar roofs bring all the benefits of biodiverse green roofs and solar power to play in a synergy of technologies. Functioning biodiverse green roofs support the efficiency of photovoltaic systems. The German Association of Nature and Environmental Protection quotes 20 percent higher efficiency for the summer months. It means, a solar system with biodiverse green roof can produce one-fifth more energy."
In return, the panels can also help contribute as structural components to the creation of microhabitats, with varying combinations of shading and humidity providing perfect conditions for pollinators, including honeybees, but also wild, solitary and bumble bees, given the right kind of planting.
From both perspectives, however, the success of the installation is very much predicated on good design. Specialist advice is key — not just on planting and panels, but structural issues and waterproofing. Maintenance is also an important consideration, to help maintain PV efficiency and guard against invasive species.
As a growing and maturing market, biosolar has undoubtedly witnessed examples of poor planning and execution, but plenty of positive results too, adds Mr Gedge:
"There are numerous examples of good biosolar roofs across Europe. In London, the largest green roof designed for the 2012 Olympics is a biosolar roof. Not only is it producing solar energy, it is meeting the legacy of the Olympic Biodiversity Action Plan with several target species found, including a rare solitary bee."
Blue-chip commercial clients are also expressing interest, mindful of their carbon footprint and energy costs, as well as their green credentials and development impact on urban biodiversity. Standard Chartered Bank, for instance, has already invested in biosolar on a prime site in the City of London.
Other notable successes include large-scale biosolar roofs in Switzerland, where planning policy in some cities positively caters for a combined approach and green roofs are required by law. One leading example can be seen on the Messe Hall in Basel. Another roof in Lausanne measures roughly half the size of a soccer pitch and is packed with PV panels and pollinators.
For sheer installation numbers, the self-styled "Green City" of Freiburg, located in an area described as the "solar heartland" of Germany, is arguably hard to beat.
Effectively, biosolar sits at the interface between the energy demands of high-tech urbanization and the ecosystem services need for low- to no-tech nature. It is where clean meets green; it is smart biodiversity for the 21st-century city.
IMAGE & ARTICLE SOURCE: https://www.eniday.com/en/technology_en/biosolar-roofs/