Singapore's skyline rebel: The rise of the 'plantscaper'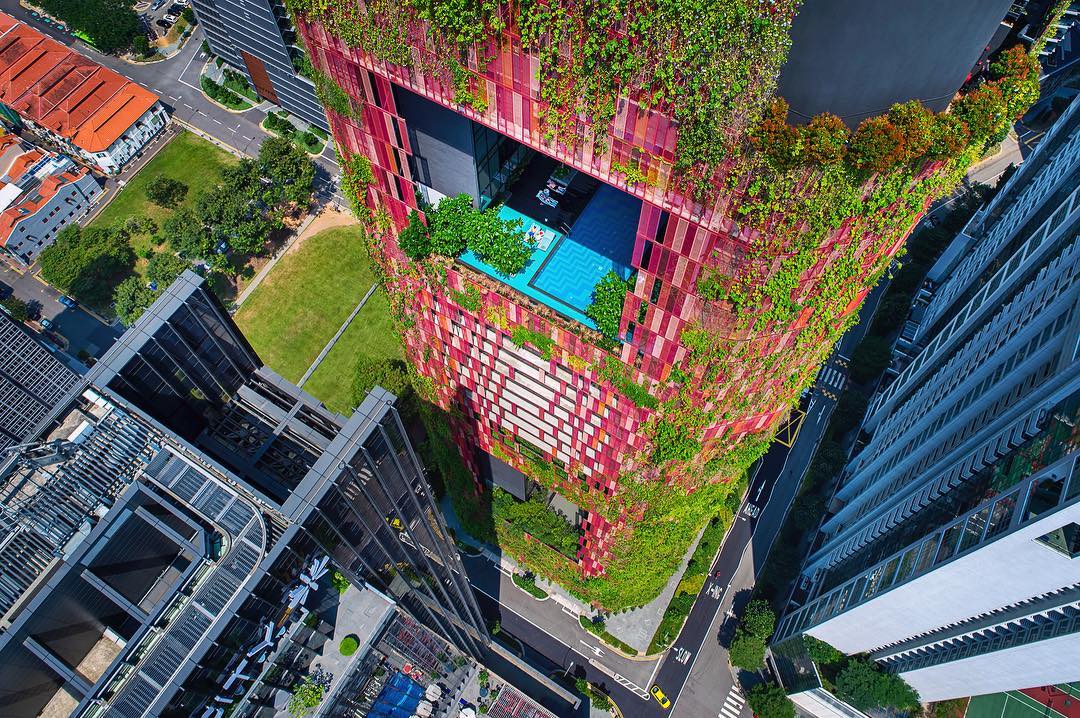 Meet the skyline rebel. This eye-popping red and green tower in Singapore's largely monochromatic village of high-rises, is anything but conventional.  The Oasia Hotel Downtown is the work of WOHA, an architecture firm headed by Australian Richard Hassell and Singaporean Wong Mun Summ. They are well-known for their large-scale, daring designs. The red-mesh facade and large-scale vertical landscaping flies in the face of Singapore's architectural history, says Professor Chris Knapp, chair of architecture at Western Sydney University.
"I think what's compelling about it is that it's kind of like an anti-skyscraper," he says "Singapore tried very hard to become a global financial capital in the 1960s, and it adopted the tradition of western commercial architecture: airconditioned, glass-curtain walled – the kind of modern architecture that you picture when you think of the major financial districts of the world.
"And, then you have this [Oasia Hotel], which is the complete opposite of that. It's just so interesting as a proposition of what a tall building can be. Before the green takes over, you have this beautiful kind of fun colour, which is also very transparent – it shifts and changes. It's really striking in that regard."
Plants on the outside of the hotel have changed the building's profile to a furry, even unkempt shape. It is this organic look that's taking the architectural world by storm. Another well-known example of this look is in Milan at the Bosco Verticale towers. They opened in 2014, with almost 800 trees, 11,000 perennial plants and 5000 shrubs.
The Italian architect behind the towers, Stefano Boeri, is overseeing the design of an entire Chinese city to be covered in greenery. Liuzhou Forest City is an urban landscape designed to include offices, houses, hotels, a hospital and two schools. In Sweden, the $40 million, 16-storey World Food Building will grow 550 tonnes of vegetables in indoor farms.
WOHA excels at plantscrapers, the landscaped towers popping up in CBDs all over the world. They also created the 16-storey Park Royal Hotel in Singapore, a building dripping with vines and shrubbery.
Last year, the firm was recognised in the international architecture competition, the Lafarge Holcim Awards, for its proposal to build a university above polluted swampland in the Bangladeshi capital of Dhaka. Their plans included a bio-retention pond under the building to clean the water, as well as swathes of
green space.
Sydney's One Central Park is the Australian benchmark for "living" towers. Designed by French botanist Patrick Blanc, the Broadway towers are covered with 38,000 indigenous and exotic plants.
Melbourne will soon get its own vertical forests in the form of two twisting super-skyscrapers reaching to 356 metres in Southbank. The $2 billion Green Spine towers will be co-designed by Dutch architects UNStudio and Australia's Cox Architecture, featuring greenery on the terraces and rooftop gardens.
Sustainability is at the centre of the plantscraper phenomenon. These green towers combat air pollution, reduce energy costs and, unlike many grey concrete structures, create tranquil places to live.
They are also an attempt to solve the looming challenges of rising populations, says Knapp.
"To deal with the problems associated with rapid urbanisation, we need to figure out how to build higher density … but still make homes that are good places to be," he says. "I think in the equatorial band you'll definitely see a lot more of this. It's showing new sensitivity to the idea that our urban landscapes can be much greener."
Knapp says plantscrapers are also possible antidotes to urban heat islands – metropolitan areas that are much hotter than regional areas because of the trapped heat.
"When you have lots of buildings together and not enough greenery, the heat never really escapes because it gets absorbed by the concrete and the man-made surfaces," he says.
"So, the idea that you can shade and cool buildings, that buildings can actually have a microclimate, is a really important idea."
Source: Kate Jones, Domain