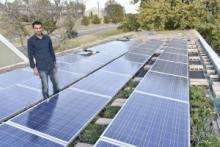 Conducting a study and field experiments, a doctoral student in the School of Architecture and Design at the University of Kansas (KU) shows that PV panels installed over a green roof perform an average of 1.5% better, compared with panels over highly reflective or black surfaces.
Typically, the efficiency of a photovoltaic panel is measured under standard testing conditions, in a temperature of 77° Fahrenheit (25° C). With every degree the temperature increases, performance decreases. So KU doctoral student Mohammed Alshayeb wanted to find a way to extract the heat from the panels when the temperature rises above 77° F. Since most solar panels are installed on rooftops, he compared the effect of three different roof materials on the panels' performance: highly reflective (white), conventional (black) and vegetated (green). The last roof type, a complete drained roof (CDR), was mostly covered with sedum, planted in trays. 
Alshayeb says in the past, roofing choice has not been considered an important enough factor in estimating the performance or the payback of a PV system. Government incentives are being awarded based on the size of the system and the amount of electricity that will be generated. Therefore, he emphasizes theimportance of finding ways to maximize the energy output. "In this study, we conducted experiments to compare the performance of PV panels installed over a green roof, a conventional roof and a highly reflective roof," the KU doctoral student says. 
The Rooftop Testbed
Alshayeb built his testbed over the roof of the Center of Design Research at the University, installing a solar panel monitoring system over the green roof as well as nearby white and black sections. 
The goal was to measure temperature differences and energy output on PV panels installed over the three different roofing types as well as the energy output. Temperature and relative humidity sensors were installed under each PV panel. A weather station was installed to measure ambient temperature, relative humidity, solar radiation and wind speed and direction. Enphase microinverters measured the energy produced by each panel. The sensors and monitoring devises recorded measurements every five minutes, collecting data for one year.