Technology meets biophilia: the future of hospitality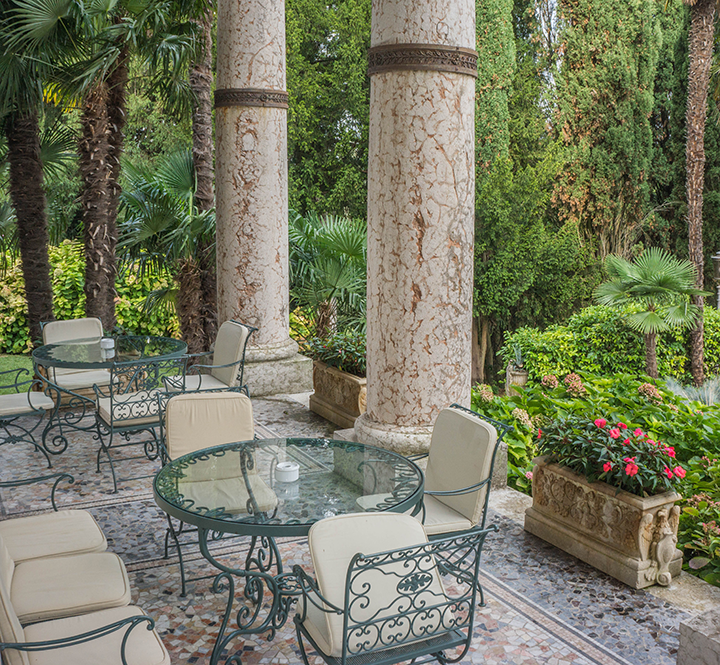 Patio at the Villa Cortine Palace Hotel in Sirmione, Italy. The building materials and details, furniture, and view each contribute to the biophilic experience of the space.
The growing need for personalised experiences is driving hotels across the Middle East to constantly adapt and identify new ways to improve their customers stay.
Developers and hospitality brands are on the lookout for ways to stay ahead of the curve, by anticipating what customers want now and what they will want in the future.
Diane Thorsen, principal design director at Perkins+Will's Dubai studio, has revealed what the future of hotels could look like across the Middle East:

"The only constant in the hospitality space is that hotels are constantly changing. At Perkins+Will we especially like this quote from Winston Churchill: 'We shape our buildings, thereafter they shape us.'  The quote mirrors our ethos, as we always look at the end user and design for him or her. To this end we carefully assess trends in not only design creativity, but in human behaviour."

"It's important when we are designing a hotel we look at creating transformative guest experiences. As architects we are responsible for each guest touch point, from when they pull up to the building, to how they experience the space."

"The overall theme to focus on in order to truly stand out in future years, is personalised experiences. Personalisation is causing a seismic shift across the landscape of consumer-facing brands. Brands that create personalised experiences by integrating advanced digital technologies and proprietary data for customers are seeing revenue increase by six to 10 per cent, according to research by Boston Consulting Group in May last year."

"That said we want to capture the guest both physically and emotionally to truly create a difference," Thorsen said.

A study published in January 2018 by Taylor & Francis investigated the psycho-physiological effects of direct and indirect nature experiences on human emotions. The results of this study showed exposure to real and virtual natural environment is beneficial to participants' moods and feelings, with exposure to the real natural environments being more beneficial. With these new and pre-existing behaviours understood, it is necessary to match technology with biophilia to create the most impactful design experience.

"With technology becoming an increasingly utilised platform on which to communicate, we want to look at integrating technology to facilitate an unparalleled personalised experience, namely through the ability to customise the guest experience to each individual," Thorsen said.

Some 'smart' hotels already provide voice-activated technology to control lighting, temperature, mood, even fragrance. Guests can program a tablet to control everything in their hotel rooms, from the television to the temperature. "Guests love being able to customise their rooms with the touch of a button. Artificial intelligence allows hoteliers to respond in real-time and provide a heightened personalisation of the guests' stay through knowledge of past and stated preferences," she noted.

"The second element is biophilia, The word 'biophilia' literally means a love of life or living things. It stems from Greek and is the opposite of phobia. We have an intuitive and deeply ingrained attraction to nature and a biological need for contact with the natural world. This is where we can design for anemotional and sensory experience," Thorsen highlighted.

"If I asked you to imagine a place where you feel calm and relaxed, chances are you would imagine a place in nature. Researchers have found more than 90 per cent of us imagine a natural setting to calm and ease stress."

"This trend is more than hotels simply integrating some plants into their design. Hotels should look to the many benefits of biophilic design to enhance their brand and their guests overall experience by tapping into the wellness and wellbeing properties associated with this design trend," she said

The natural and biophilic design concept is characterized by:

· Exposure to natural lighting
· Views of nature/ room with a view
· Natural architectural patterns
· Use of sustainably sourced materials
· Living green walls/ vertical gardens
· Direct and indirect exposure to nature
 
The immediate effects of the natural and biophilic trends occur as guests enter the hotel, and are increasingly important for hotels in urban landscapes due to the lack of nature in cityscapes. Guests will sense this connection emotionally.

"By merging these two fundamental trends, you are left with not just a building, but an experience," Thorsen said. 
ARTICLE SOURCE: Trade Arabia
IMAGE SOURCE: Terrapin Bright Green