Toronto Going Greener
Toronto is raising its game when it comes to vertical neighbourhoods.
Increasingly, a city that works and lives in the sky will play there, too.
Elevated recreational areas, already common in condos and office towers, are now being incorporated into public developments in places where land is at a premium and cost prohibitive.
At Canoe Landing downtown, a community centre and two schools will share a rooftop basketball court and walking track.
In the suburbs, preliminary designs for a new northeast Scarborough community centre include rooftop fitness amenities that will maximize the constrained building site so the nearby green space remains intact.
Using once overlooked spaces — including those above eye level — for recreational, fitness and social activity is the next step in creating vertical neighbourhoods. It's one thing to set aside park space in new subdivisions. But in established neighbourhoods, particularly densely populated areas, the city can't expect to keep up with the green space and public realm needs of a burgeoning population
Many elevated spaces are designed to be passive, a place to sit and relax. But space constraints and expense are also driving the creation of more active rooftop facilities, such as the recreation centre being built at Canoe Landing that will be overlooked by CityPlace condo dwellers, who can watch their neighbours play basketball, walk the track, tend raised planters, picnic or practise yoga and tai chi.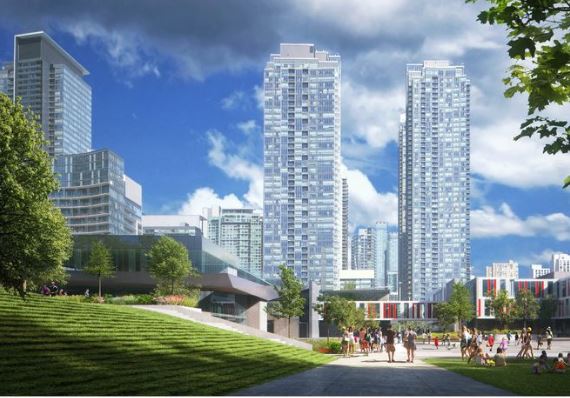 The fully integrated $79-million, 9,800-square-metre complex that also includes a community centre, two elementary schools and child care is expected to be a hub, not only for CityPlace residents but also for the King St. and Spadina Ave. and Fort York neighbourhoods, said Ann-Marie Nasr, director of parks development and capital projects for the city.