Why it's becoming compulsory to join the green (roof) revolution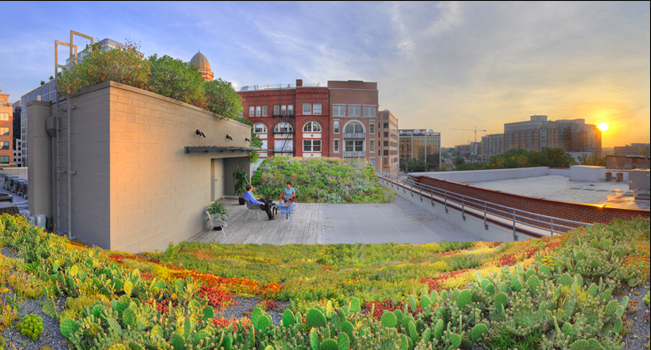 The green roof on the American Society of Landscape Architects headquarters 
A quiet green revolution is underway in the states where Denver has joined San Francisco to become a couple of the first American cities to make green roofs compulsory on certain buildings.
A new law passed last month means that from next year 20 percent of rooftop space on newly constructed buildings over 25,000 square feet must be covered by gardens or solar panels. The law also covers roof replacements on existing buildings meeting the size threshold.
Residential buildings less than four stories are exempt.
The green roof concept goes back thousands of years, with one of the most famous examples being the hanging gardens of ancient Babylon.
In more recent history Germany has been a fervent adopter, supporting green roof legislation in various guises since the 1970s.
Benefits of the eco-friendly design include longer roof lifespan, reduced heating and cooling requirements, reduced and slowed stormwater runoff, improved air quality and provision of an urban habitat for insects and birds. They also help mitigate the urban heat island* effect which some researchers believe in the future could , because of climate change, raise city temperatures to levels that threaten human health and compromise economic productivity.
As a city oasis green roofs can also provide food and a recreational area for residents.
The American Society of Landscape Architects decided to install one atop it's four-storey building in Washington in 2006. It wanted to demonstrate the environmental benefits of a green roof, as well as showcase what landscape architects contribute to this kind of project
Performance data included a 10 percent decrease in building energy use over winter. During a 10-month monitoring period the roof prevented more than 104,000 litres of stormwater from flowing into D.C's overburdened sewer and stormwater system. Water quality testing showed the water runoff contained fewer pollutants than typical water runoff.
To get your own green roof project blossoming the ASLA recommends getting a structural engineering study done on your roof to ensure it can hold the weight of vegetation.
*Buildings, roads and other infrastructure that make up urban environments make cities hotter than surrounding rural areas. This is known as urban heat island.
ARTICLE & IMAGE SOURCE: Landscape Architecture NZ