New Green Roof Research for NSW Provides Cost Effective Stormwater Management and Plant Growth Knowledge
Scientific testing of Knauf Green Roof products is taking place in two locations in Sydney. Knauf is a major supplier of insulation products around the world. Their new Green Roll substrate is now available Australia. The product is made from rock mineral fibres providing excellent water retention for different landscape applications. Offering significant improvements at a lower cost and weight than typical green roof systems.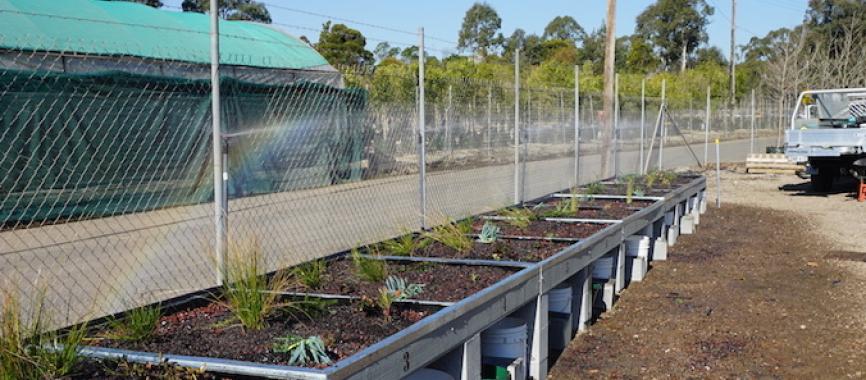 Test panels on planting day provide information on various growing media depths, weights and Knauf products
A series of test plots have been installed in Western Sydney to monitor storm water management and plant species performance. An additional test site is located in Berowra Sydney. Data has been recorded since April 2017, it shows important advantages for development sites and retrofitting existing roofs.
Roofs using 'Knauf Green Roll' provide significant stormwater control and retention. Peak discharge is greatly reduced and water exiting the system is noticeably cleaner.  Green roofs and landscapes using Knauf will require far less water to flourish. Plant species information is available to provide the most sustainable outcomes. Green roofs reduce energy consumption, cool cities, whilst providing sound attenuation and biodiversity habitat.
These test panels will enable landscape architects, architects, developers and engineers to specify green roofs in NSW for specific storm water retention. Structural engineers will know the green roof loads. Contractors will have clear instructions and training on how to install the Knauf products on their projects. For further information contact Robert Griffith at Evolvement on 0468 787 071
KNAUF are a  GRA sponsor. 
Visit KNAUF websites (see our homepage for links)
.
Native planting and Sedum planting trial plots in Berowra, Sydney NSW. These plants are growing in 40mm of growing media and Knauf. The saturated weights are less than 60kg per M2. Plots receive very little water and are flourishing after on 4 months of winter. Berowra rainfall is similar to Sydney CBD