Green Roofs_Promise or Myth
Brooklyn Navy Yard, an industrial complex on Brooklyn's waterfront, just installed a group of new environmentally friendly rooftops. The project is a partnership with New York City's Department of Environmental Protection Green Infrastructure Grant program (DEP), which aims to reduce stormwater "and help keep it out of our sewer system," said the city's DEP commissioner, Vincent Sapienza.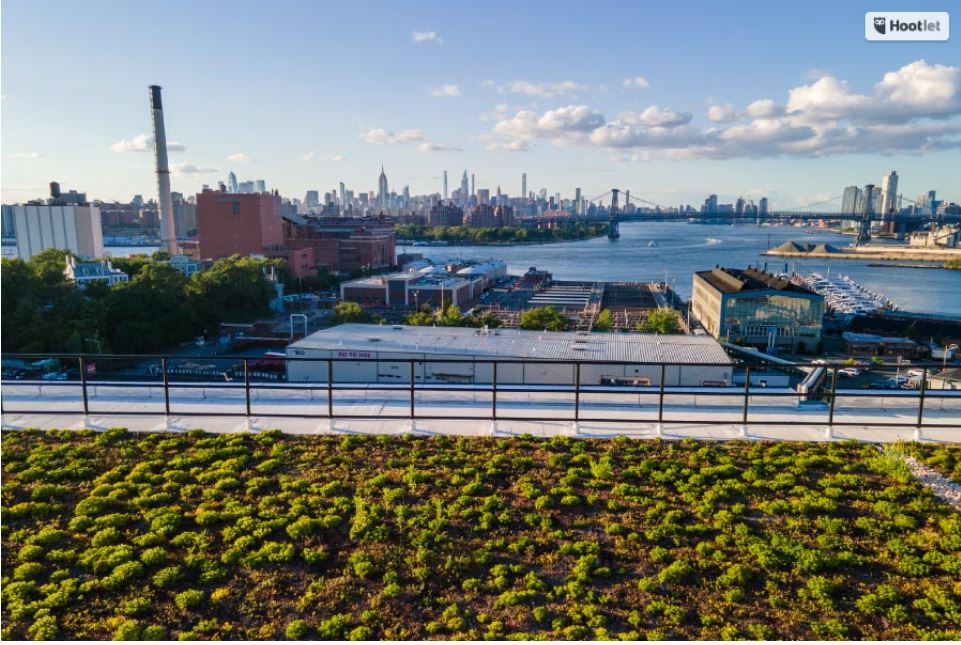 Image: Steiner Studio Brooklyn NYC
Covering 23,000 square feet of rooftop space with grass and wildflowers, the yard received a $700,000 grant to make this happen. The city contributed $351,788, while Brooklyn real estate firm Steiner footed the rest of the bill, paying a whopping $537,000 for the project. The chairman of Steiner NYC, Doug Steiner, said in a statement that: "The green roofs and extensive landscaping with their native plant palette create a biodiversity that butterflies, and birds, have already been enjoying. We are glad to be supporting the local ecology while also reducing the heating and cooling demand of the buildings."
The green roof will manage approximately 1,800,000 gallons of stormwater annually, as the rooftop has been covered with soil and planted with ornamental grasses, perennial wildflowers and sedum to absorb the rainfall, which the city has calculated as "nearly 2.5 million gallons in a typical year." (The Brooklyn Navy Yard already has a solar-powered kitchen, and something called Rooftop Reds, the world's first commercial rooftop vineyard).
"This project is a wonderful example of a partnership between government and a strong community leader to build the green infrastructure, which has enhanced the sustainability of the Navy Yard and is already helping to improve the health of the East River and New York Harbor," claims Sapienza.
This trend is growing, apparently. According to a recent report from Technavio, a market research firm, green rooftops will grow by $8.8 billion by 2025. The report claims the largest markets for green roofs are Germany, the US, Japan, Canada, and Singapore, with North America registering the highest growth rate of 36.50 percent among the other regions. Therefore, the green-roofs market in North America is expected to garner significant business opportunities for the vendors during the forecast period.
But the question remains, even with all of the new green roof installations, are they viable ways to help us reach our sustainability goals? And as much as these green roofs can help, what are the costs to the buildings themselves?
Some experts claim that 'greenwashing' architecture is not solving the problem against climate change, it's just providing a distraction. Poorly maintained green rooftops put buildings at risk with insurance companies, too, as there should be testing protocols that consider winds, harsh weather and fire hazards, depending on the type of rooftop. If a rooftop uses shallow, lightweight plants, there's not much of a fire hazard, even if the plants die in a drought.
Is the responsibility on the properties or the companies who create green roofs? Some of the leading companies driving this growth include Urbanstrong, Green Roofs and Columbia Green Technologies. Many of these firms offer modular and biodiverse living roofs, specialize in roof gardens, and help provide drainage and water storage mats for green roofing systems. 
One of the most major trends is biosolar roofs, which combine two things, vegetation and photovoltaic panels, to generate electricity, together. They reduce energy consumption with natural insulation, improve air quality and absorb stormwater. But is this really reducing our carbon footprint?
The design of biosolar roofs is crucial to the success of a green roof. "If too much emphasis is put on the solar panels and the green roof is used as purely decorative, the positives can quickly turn into negatives," according to Eddie Greco, the director at Greenwood Solutions, an Australia-based renewable energy firm. "For example, if the panels are placed too close together and entirely the wrong sort of plants take over."
Greenwashing, also referred to as green sheen, is a PR spin that gives the illusion that a company or organization is being environmentally friendly. Marketing jargon in the architecture world has reached new heights. Whenever a building is announced, there's the often boasting that it "adheres to some of the highest standards in sustainability," with nods to "water efficient landscaping," alongside phrases like "stormwater quality controls," and "exceeding standard performance" for what's being referred to as "low or no emissions to help promote human-healthy indoor environments."