Renewable energy investment 'bonanza' is coming to Australia, experts say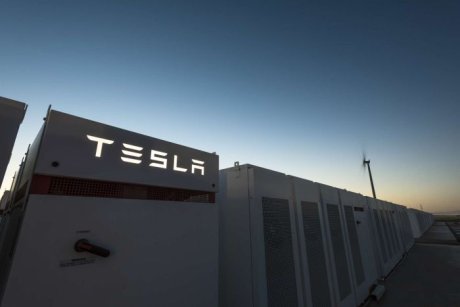 Investment experts say Australia is fast becoming an attractive destination for large-scale batteries and renewable investment, which should ultimately bring down the costs of gas and electricity for households.
The world's second-most powerful battery could be built in the Top End as part of a plan to produce more renewable energy for the Northern Territory, following the installation of Elon Musk's 100-megawatt battery in South Australia.
The Climate Council has called it a renewable investment bonanza.
"We will see I think a boom over the next decade in battery storage and also solar thermal, we're starting to see that play out now in South Australia," the Climate Council's Andrew Stock said.
Mr Musk drew plenty of media attention when he announced he would build a 100-megawatt battery in South Australia.
Mr Stock said its success, combined with State Government support, has drawn the eyes of the global investment community.
The American-designed Aurora solar plant in Port Augusta has been contracted to supply all of the SA government's energy needs once operational.
In Queensland a French utility company — which partnered with Tesla in South Australia — has begun building an even larger storage system in far north Queensland.
"What we will see is a virtuous circle developed between ever lower costs of renewables, ever lower costs of battery storage, those will reinforce each other," Mr Stock said.
"Smart investors will put their money in those sorts of investments, not in old fossil plants, and we will see this transformation happen."
Mr Stock said it was the states who were taking initiatives to forward renewables investment.
"We're seeing states effectively lead that set of initiatives and private investment will follow, because they see an opportunity and that's what they're there to help fulfil," he said.
Overseas investors giving Australia a go
Independent economist Warren Hogan said it was the well publicised energy crisis, and the high costs of gas and electricity, that has made Australia's renewable industry far more attractive to foreign companies.
"The key is probably the price of electricity and energy in the domestic market, is elevated and has remained that way for a couple of years," Mr Hogan said.
"So that's made the economics of these big capital investments more favourable and they are big initial capital outlays."
Mr Hogan said the politics of climate change had also shifted just enough to convince offshore investors to give Australia a go.
"There is a strong support for traditional energy sources, such as coal and gas in the current Federal Government — but even in some parts of the government you're seeing support when renewables come through," he said.
"It's being backed up by policy and support, particularly from state governments."
Mr Hogan said the investments were big enough to have a lasting influence on Australia's energy market.
"It is a big shift in the domestic energy scene," he said.
ARTICLE SOURCE: http://mobile.abc.net.au/news/2018-01-15/renewable-energy-investment-bon...
IMAGE SOURCE: