GRA Newsletter November 2013 [REVISED]
GRA is hosting the 2014 WGIC
for everyone to be involved and to enjoy.
Get on Board NOW!
FOR DETAILS VISIT OUR WEBSITE.
---
IN THIS ISSUE:
---
INTRODUCTION
At the 2012 GRA National Conference in Melbourne the City of Melbourne was awarded the 'Green City Award' to acknowledge the consistent advocacy of green roofs and living walls, support for research, community involvement, awareness raising through education and the Canopy Forum and the development of Guidelines and policy reviews. The Burnley Campus at the University of Melbourne received the 'Outstanding Research Award' to acknowledge the Burnley academic staff and students as leaders in green infrastructure research.
GRA has been an active supporter of both the City of Melbourne and Burnley Campus since 2008 through association and holding National Conferences in 2009 and 2012.
GRA congratulates the The Growing Green Guide for Melbourne Team (Cities of Melbourne, Yarra, Stonnington and Port Phillip, the University of Melbourne) and the Victorian Government on the recent release of a draft Victoria's Guide to Green Roofs, Walls and Facades.
This Guide has been put together by the Melbourne Team, with funds from the Victorian government. The authors have been advised by a range of professionals with experience in the green roof, green wall and facade industry. The Guide is written primarily for professional projects, but will be relevant for the do-it-yourself audience too.
There is no doubt that this Guide will help propel the development of more green roofs, walls and facades in Victoria and set a positive benchmark for other states in Australia and New Zealand.
The final product will be released early in the New Year and will be a free publication that can be downloaded from www.growinggreenguide.org
In the meantime, the Melbourne Team needs everyone to Give Feedback.
They are looking for feedback on the draft Guide from a wide range of people, from those who are professionally involved in the industry, to people simply curious to learn more. We invite all our members to take a look at the document and to fill in the feedback form by November 18th.
Please click on the feedback form even if only to tell them that you like the look of the draft and have no detailed feedback to provide. It helps them to know how many are checking it out.
'CANOPY' Melbourne information session.
An information session on the Guide will be held in Melbourne on November 13th, 6pm - 8pm, as part of Canopy: Melbourne's Green Roof Forum.
RSVP for Canopy here.
GRA has spent 2013 consolidating and restructuring to utilise our available resources as best possible. As a 'Not-for-Profit' it has always been a task to spread our input across both Australia and New Zealand. We contribute many hours however we also need our members to approach us; to send us information & feedback and of course to continue as members.
In 2013, GRA has reduced all membership fees across every category from student to the corporate rate. If your membership has expired, please consider your renewal as 2014 will be a massive year for GRA as we host a World Congress.
Western Australia was to be our focus for the 2013 National Conference; however, Perth & Fremantle were unable to meet the deadline. GRA is presently discussing an involvement with the WA Dept of Planning for the upcoming Pilbara Designscape Symposium. Call for papers will be made in the coming months; please keep informed and visit their link for further information.
In hindsight, GRA has been most effective at supporting other bodies & institutions with the resources to actively promote the expansion of green roofs & walls (GRW) so it is our hope, that the 2014 World Green Infrastructure Congress will bring together Institutions, professionals, trades, community groups and Capital City Councils in the same way that collaborations in Victoria have progressed.
In 2014 GRA needs all the assistance available as we attempt one massive push for the GRW Industry in Australasia. Get in touch if you have suggestions, feedback or, most importantly, if you are keen to lend a hand.
Warm regards
Matthew Dillon (President)
---
INDUSTRY UPDATE
The Growing Green Guide Team of Melbourne has released the draft of Victoria's Green Guide to Green Roofs, Walls & Facades
Visit link: www.growinggreenguide.org
Give Feedback!Fill in the feedback form by November 18th.
Nursery & Garden Industry Australia (NGIA) - 202020 NGIA Vision


Map, measure, publicise, research and support Australia's finest green space projects and advocates. Use these to inspire the people who create our cities to create more green spaces. Keep inspiring; keep improving so that we can all enjoy more green spaces in our cities by 2020.
Also from NGIA following the success of last year's i-Tree Eco Australia workshops, NGIA in collaboration with National Urban Forest Alliance (NUFA) and Arboriculture Australia have organised a second round of one-day i-Tree Eco Australia workshops:
| | | |
| --- | --- | --- |
| Location | Date | Venue |
| Cairns | Tuesday 19 November | Cairns Regional Council, Civic Reception Room 119-145 Spence Street, Cairns, QLD |
| Brisbane | Wednesday 20 November | 2013 Redlands Research Station 26-40 Delancey Street, Cleveland, QLD |
| Tweed Heads | Thursday 21 November | Kingscliff campus – North Coast TAFE Cudgen Road, Kingscliff, NSW |
| Sydney | Monday 25 November | Northcote Conference & Function Centre 12 Fennell Street, North Parramatta, NSW |
| Perth | Tuesday 26 November | Western Australian Ecology Centre, Tamala Room Bold Park, Perry Lakes Drive, Floreat, WA |
| Adelaide | Thursday 28 November | Campbelltown City Council 172 Montacute Road, Rostrevor, SA |
| Melbourne | Monday 2 December | University of Melbourne – Burnley Campus, Burnley Hall 500 Yarra Boulevard, Richmond, Vic |
| Hobart | Tuesday 3 December | Royal Tasmanian Botanical Gardens, Riverview Room Queens Domain, Hobart, TAS |
The workshops are designed to provide participants with an overview of the i-Tree Eco software and its application including i-Tree Canopy. Cost to attend the one day workshop is $44.
If you would like to register please visit their website for online registration www.arboriculture.org.au

---
EVENTS
November 7-9: GreenUrbanScape Asia Conference, Singapore

November 26-27: Ecosystem Services - Green Infrastructure European Conference 2013, London, UK - CANCELLED!
For more information please visit website.
November 20-22: Greenbuild International Conference & Expo, Philadelphia, USA

January 28-30 2014: Green Building Expo 2014, Doha, Qatar

March 10-13 2014: NGIA National Conference 2014
| | |
| --- | --- |
| | Blue Sky Thinking Real Green Living is the theme of the conference, which will be hosted in the heart of one of Sydney's favourite waterfront playgrounds, Darling Harbour. |
March 18-19 2014: Green Cities 2014, Melbourne, Australia
| | |
| --- | --- |
| | In 2014, Green Cities returns to Melbourne. Based around the key theme of 'Beyond the Baseline', Green Cities 2014 will be the ultimate forum for discussion, demonstration and debate on how to go beyond. Beyond market challenges. Beyond green wash. Beyond boundaries. Join us! |
April 2014: Pilbara Designscape Symposium, Perth, WA.
---
NEWS LINKS
GRA News

Join INTERNATIONAL delegates to celebrate the fastest expanding industry in Construction and Urban Planning. Experts, Academics, Exhibitors, Professionals, Policy Makers and related fields, which will congregate, share, explain and educate on how Green City Infrastructure such as green roofs, living walls, urban forests and urban regeneration can sustain our environment and our cities with vegetative systems and wise policy.
Visit GRA website for more information.
National News
$2 million Building Innovation Fund to reduce the carbon footprint of existing commercial buildings in South Australia

The fund supported the commercial property sector agreement between the South Australian Government and the Property Council of Australia (South Australian Division) made under South Australia's climate change legislation.
Two streams of funding were offered:
A capital works stream offered grants for implementing leading edge approaches in retrofitting commercial buildings.
A feasibility and case study stream provided funding toward feasibility and case studies that demonstrated leading edge approaches to retrofitting commercial buildings.
Overview of completed projects such as Installation of living wall, Installation of green roof, Feasibility of living wall with various documents are made available on Government of South Australia website.

The incentives for green roofs and how the disincentives can be surmounted
A review of practical benefits, biodiversity contribution, and overcoming inhibitors in Australian market prepared by Nina James, GRA Executive Board Member.
One Central Park (OCP) Broadway, Sydney
The plant growth has been exceptional on OCP however due to human error there has been a setback.
| | |
| --- | --- |
| | Initially, the plants were pre-grown at Andreasens Green Nursery and successfully transplanted onsite. Growth has been faster than expected however recently 7000 plants died on the OCP project due to water for the irrigation being turned off by construction workers working on other areas of the project. |
| | |
| --- | --- |
| | The vertical garden panels and planter boxes have been planted during the busy construction of the towers, which has many project managers on different sections. The irrigation is controlled by hi-tech computerised system, which had signalled Warning Notices about lack of irrigation during high temperature days. Construction workers had been turning the mains water on and off and when the system alarm bells were ringing for more water, there was no one listening. We hope there will be a full time operator checking for warnings about irrigation and plant health - next time! A costly mistake on a very hectic building site that could have been avoided. |
International News
L'Oasis D'Aboukir Green Wall in Paris
On Sept 10, Paris Design Week celebrated the opening of Patrick Blanc's new vertical garden design called L'Oasis D'Aboukir in the 11th arrondissement of Paris.
| | |
| --- | --- |
| | |
| ~ Before ~ | ~ After ~ |
GreenUrbanScape Asia Conference, Singapore 07 - 09 November 2013

Discover the latest products and solutions from top innovators. Network with like-minded professionals and industry leaders, including academics, government officials, and policy makers. Conduct market research and take advantage of this dynamic platform to grow your business.
GRA is supported by Living Roofs NZ
| | |
| --- | --- |
| | As an independent organisation, Living Roofs is promoting the uptake of green roofs in New Zealand. Visit their website to find out the latest information, research and case studies of projects in NZ. |
Elmich installs the largest green wall in the world at the new ITE Headquarters & College Central in Singapore.
The ITE Headquarters and College Central in Ang Mo Kio, Singapore has been transformed into facades of living green vegetation, which cover the internal and external walls of 9 campus blocks and the rooves of 3 campus blocks.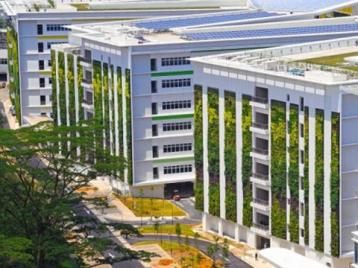 Read more at OurdoorDesignSource.

PARKROYAL gets the Green Mark of distinction
Singapore Studio WOHA has designed the PARKROYAL on Pickering hotel as a striking and sustainable green space, located in the CBD of Singapore.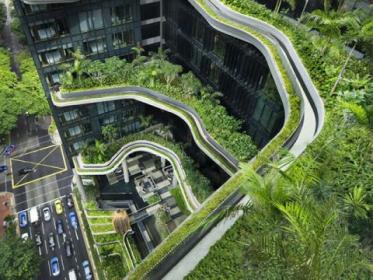 Spotlight on Research
UC makes breakthrough in green-planted roof research
The University of Canterbury (UC), New Zealand has discovered green-planted roofs do not need to be irrigated in winter or summer to thrive.
More info here.
Green Infrastructure Research Group at the University of Melbourne
The new Green Infrastructure Research Group website is now on!
---
RECENT PROJECTS
Freehills Offices, Sydney, NSW, Australia

Completed in August 2013

Illura Apartments, Melbourne, VIC, Australia

Completed in June 2013

The Bridgepoint, Kingston, ACT, Australia

Completed in July 2012

Mater Hospital Healing Garden, Sydney, NSW, Australia

Completed in February 2010
For more new and exciting projects please visit our Recent Projects website.
---
BOOK RECOMMENDATION
Jason Pomeroy's 'Skycourts and Skygarden' Book Launch Event
Using graphics and full colour images throughout, Pomeroy explores 40 current and forthcoming skycourt and skygarden projects from around the world.
Living Architecture: Green Roofs and Walls
Graeme Hopkins & Christine Goodwin
Extensively illustrated with photographs and drawings, Living Architecture highlights the most exciting green roof and living wall projects in Australia and New Zealand within an international context.
The book is divided into practical chapters that explore the entire green roof and wall process – from the overall international context to the benefits and drivers of this type of architecture, the design principles behind it and local case studies. It then explores specific planting lists, the challenges of climate change and the role of government in a highly illustrative and experiential way.
Planting the rooftops and walls of urbanized areas brings many benefits to public, private, economic and social sectors, as well as to the local and global environments.
This book will appeal to a wide range of readers, from students and practitioners of architecture, landscape architecture, urban planning and ecology, through to members of the community interested in how they can more effectively use the rooftops and walls of their homes or workplaces to increase green open space in the urban environment.
---
THANKING OUR SPONSORS!
PLATINUM SPONSORS:

FYTOGREEN AUSTRALIA
GOLD SPONSORS:

INTERNATIONAL LEAK DETECTORS / THE GREENWALL COMPANY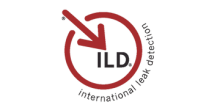 SILVER SPONSORS:

ELMICH AUSTRALIA / SIKA AUSTRALIA / RONSTAN