Brisbane Green Tower
The vision is aligned with BCC Policy and the 'Brisbane Vision Blueprint' so it's no wonder developers are acting through DA proposals like this.
An inner-city suburb on the Brisbane River could be home to the "greenest residential building in the world" with ambitious plans currently under review by the city's council.
Development plans lodged last week by the Aria Property Group propose a 30-storey "vertical forest" and "a beacon for sustainability in South Brisbane".
With Brisbane High School to the south and the Exhibition and Convention Centre a stone's throw away, the development, aptly named The Urban Forest, would become "an exemplar", submission documents state, "placing Brisbane at the cutting edge of the world."
"The Urban Forest concept will be the greenest residential building in the world and will reduce the heat-island effect, improve the micro-climate, undertake localised air-cleansing, absorb pollutants, reduce noise levels and contribute to biodiversity," the document states.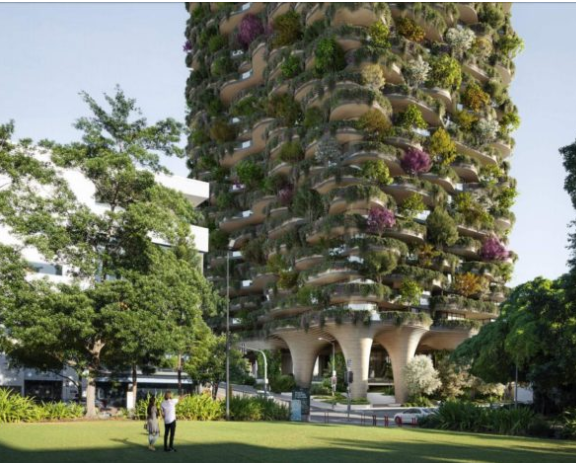 Designed by Koichi Takada Architects, the plan boasts 1003 trees and more than 20,000 plants, a predicted equivalent of taking 150 cars off the road each year. Lat27 and Arno King Landscape Architects were also involved in the design.
"Solar and thermal insulation provided by natural vegetation and sculptural cantilevered slab projections, plus high performance glazing, and c